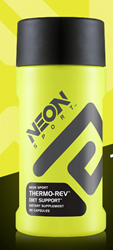 we're giving Neon Sport fans a unique opportunity to take home a decked out Ducati motorcycle, along with hundreds of other instant win prizes
New York, N.Y. (PRWEB) December 23, 2014
Neon Sport, maker of the pre-workout supplement, Volt, and amino powder, Kinetic, has just launched a diet support supplement called 'Thermo-Rev', which is available on Neon Sport's website, through GNC, and soon on Bodybuilding.com. In honor of the release, Neon Sport will host a giveaway for fans to enter to win an exclusive Neon Sport branded Ducati, while giving out hundreds of free products.
"We thought about what kind of launch could match a high-powered weight loss product like Thermo-Rev," said Social Media Director, Adam Kossoff. "With a Spin to Win style contest, we're giving Neon Sport fans a unique opportunity to take home a decked out Ducati motorcycle, along with hundreds of other instant win prizes. We've never done anything like this before," continued Kossoff.
The Thermo-Rev Ducati Giveaway will kick off January 1, 2015, and will end January 31, 2015. Participants will also have a chance to win a variety of other prizes in addition to the Ducati. The official contest page is hosted on http://www.ThermoRev.com. Fans should visit this page for further details on how to win.
About Neon Sport:
Neon Sport is an electrifying new sports nutrition brand for supplement customers seeking the hottest, latest, and loudest supplement brand on the market. Inspired by extreme sports and loud music, Neon Sport is a high-powered, in your face, sensory experience now available at GNC and Bodybuilding.com. To learn more, visit NeonSport.com or connect with the brand on their official Facebook, Twitter and Instagram pages.
###