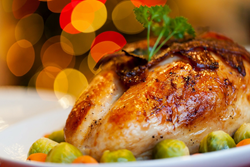 "I can't wait to make Christmas dinner with the Cook In app!"
(PRWEB) December 23, 2014
"Cook In" was featured on NewsWatch as part of its monthly AppWatch, which features the latest and coolest mobile applications on the iOS, Android, and Windows markets. Andrew Tropeano, a mobile technology expert and host of NewsWatch, conducted the app review and shared with viewers how this application simplifies cooking during the holidays.
The Christian holiday is in a couple of days, which means there's going to be a lot of cooking. But because Christmas cooking is all about timing and quantity, it can get pretty hectic for any chef in the kitchen.
The Cook In App is a great solution for any holiday meal. To use the app, all a chef has to do it enter in what type of meat and vegetable that they're going to be cooking. The chef can also enter the setting of every item, from if the item is in the oven, if it's boiling, if it needs to be rare, well done, and they can even enter al-dente if the item is a vegetable.
Then, the chef hits "go" and the app will keep track of the correct timing of each item, according to the settings that were entered. The application will give preparation tips to the chef with constant reminders per step as the rolling clock ticks. For instance, Cook In will remind the chef when the temperature for the meat needs to be turned down.
The end product is a meal where everything is cooked to a delicious finish every time. So there's no need to let the meat go cold while the potatoes are still cooking. The Cook In App is available on iOS devices for .99 cents and Android devices for $1.66.
To learning more, visit http://www.cookinapp.com today.
About NewsWatch:
NewsWatch is a weekly 30-minute consumer oriented television show that airs on the History Channel, FYI Network, and ION Network. NewsWatch regularly features top technology products and services, mobile applications for iOS, Android, and Windows devices, unique and beautiful travel destinations around the world, health and medical tips, and entertainment interviews on the show. NewsWatch airs on the History Channel at 6:00 – 6:30 AM ET/PT and on the FYI Network from 7:00 – 7:30 AM ET.
NewsWatch is located in the greater Washington, DC area and has been on air for over 25 years. For more information or to watch the most recent episode, visit http://newswatchtv.com/appwatch.html.