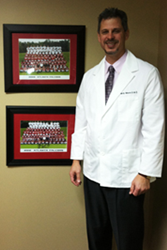 Lawrenceville, GA (PRWEB) December 22, 2014
Dr. Randolph S. Moore expands his patient base for the minimally invasive Pinhole Surgical Technique (PST™), and now welcomes Lawrenceville, GA residents for the procedure. Whether due to gum disease, hormonal changes, tobacco use or injury, receding gums can lead to unhealthy conditions and should be treated.
Dr. Moore utilizes PST™ to treat receding gums quickly and effectively. The gum graft alternative uses a tiny pinhole in the gum tissue which allows Dr. Moore to gently lift and stretch the healthy tissue to cover the area of recession. The procedure does not cut or stitch the delicate gum tissue, so there is little to no bleeding or swelling associated with the surgery. Most patients report a rapid return to regular life activities without heavy pain medications.
Some of the leading causes of receding gums in Lawrenceville include:

Gum disease (periodontitis)
Tobacco use (smoking or chewing)
Hormonal changes
Poor brushing technique or wrong type of brush
Inadequate dental hygiene and care
Once gum recession has begun, it will generally proceed to get worse until treated by a dental professional. The sooner the condition is diagnosed and treated, the better the odds of avoiding long-term, permanent damage to the vital structures of the mouth such as the bone that supports teeth.
To learn more about the causes and dangers of untreated receding gums in Lawrenceville, GA, visit Dr. Moore on the web at http://www.smilemooredentistry.com or call (770) 545-6141 for a consultation about the gum graft alternative PST™.
About the Doctor
Dr. Randolph S. Moore is a general dentist offering personalized dental care for patients in the Buford, GA area for over 20 years. Dr. Moore received his degree from the University of Alabama in Birmingham, and completed his residency at the Veterans Hospital in Birmingham. Dr. Moore is active in the dentistry field and is a member of the Georgia Dental Association, the American Dental Association, American General Dentistry, American Academy of Cosmetic Dentistry and ICOI (International Congress of Oral Implantologists). To learn more about Dr. Moore and his dental services visit their website at http://www.smilemooredentistry.com/, or call (770) 545-6141.