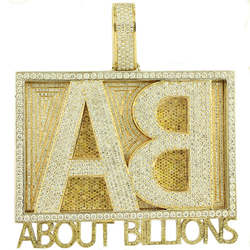 Shoutout my jeweler @joeavianne for hooking me up with my new pieces for the holidays he is killing the game check him out #aboutbillions
New York, NY (PRWEB) December 29, 2014
As people plan and hunt for the perfect holiday gift, the team at Avianne & Co has been working extra hard to fulfill this holiday season rush of orders. This time of year is especially busy for jewelers everywhere as customers choose the holidays to buy traditional jewelry pieces which acts as a symbol to voice out their feelings. With new technologies, customers are now also able to choose an even more personal route, to build or custom make their own piece. Custom jewelry takes more time to make, customers need to compose the design, choose the shape, stone, karat weight etc. Nowadays, the demand for custom jewelry has become very popular yet not many jewelers are able to provide this service. Being in the industry for over a decade, founded by brothers Joseph and Israel Aranbayev, Avianne & Co has outshined other jewelers with their crafting skill as well as their ability to tackle any sort of design complexity and produce refined custom jewelry.
Three-time world boxing champion and close family friend, Adrien "The Problem" Broner decided to again re-collaborate with the craftsmen at Avianne & Co. This holidays, he is gifting himself with several custom diamond pieces to add to his already impressive 'bling' collection.
Broner turned to New York-based custom jewelry designer to create an enormous solid yellow gold "About Billions" Gold Pendant. The piece is surrounded by 48-carat brilliant round cut diamonds. This one of a kind piece was made as a holiday present to himself in appreciation to his ongoing reality web-show "About Billions". Along with this iconic piece he also purchased an iced out 25 Ctw Day-Date Presidential II Gold Rolex watch, a 14K Yellow Gold Tennis Bracelet, a 10K Solid White Gold Miami Cuban Link and a Yellow Gold Diamond Ruby Pinky Ring which is a part of Avianne & Co's notorious "Royal Collection".
The leader and owner of Band Camp have been working closely with Joseph Aranabyev also known as Joe Avianne for years in making most of his iconic jewelry pieces. Broner gave Joe a shout out on his Instagram account followed by a picture of his newest Avianne & Co gems:
"Shoutout my jeweler @joeavianne for hooking me up with my new pieces for the holidays he is killing the game check him out #aboutbillions".
Some of his previous orders are a 10-carat pinky ring, prayer hands pendant, as well as 10 Band Camp custom made pieces for $15,000 each. Broner purchased the Band Camp pieces for himself and members of his team.
Located in Manhattan's famed Diamond District, Avianne & Co. is the premier fine jewelry source for celebrities, entertainers, and athletes. Avianne & Co. has built a reputation for custom and high-end pieces, including elegant diamond necklaces and bracelets, exquisite engagement rings and wedding bands for its celebrity and executive clientele. Famous personalities purchase custom jewelry exclusively from Avianne & Co includes Nicki Minaj, Lil Wayne, Future, Chris Brown and Justin Bieber.