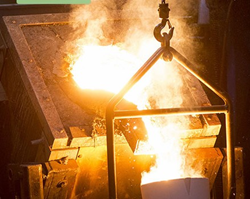 Our streamlined process and expert staff make it quicker, easier and virtually seamless in most cases.
Lebanon, PA (PRWEB) December 23, 2014
Pennsylvania Precision Cast Parts (PPCP), an industry-leading investment casting company located in Lebanon, Pa., has implemented a streamlined entry process for new investment casting customers who are transitioning their castings from other foundries to PPCP. The process saves time and eliminates many of the typical transitioning issues.
"Moving from one investment casting foundry to another can be a stressful and frustrating experience for many people," says Andrew Miller, President and CEO of PPCP. "Our streamlined process and expert staff make it quicker, easier and virtually seamless in most cases."
The PPCP process includes the following steps:
1. Request for Quote – A customer submits an RFQ for the desired casting.
2. PPCP Quote – A quote is promptly provided by PPCP based on information submitted. If the quote is acceptable, the process continues.
3. Project Analysis – PPCP's transition team works with the customer to understand the issues, concerns or needs that have caused them to initiate the RFQ.
4. Solution Development – Drawing on its industry-leading experience and knowledge, PPCP's staff determines the best approach to a fast, effective and seamless transition.
5. Tool Transfer – The customer ships the tool for the casting to PPCP. Any adjustments are made to optimize casting.
6. Initial Sample – A sample casting is quickly made and sent to the customer for approval.
7. First Production – An expedited first production run is completed and shipped to the customer. Any fine-tuning is completed.
8. Ongoing Production – Castings are produced as requested by the customer, keeping the part pipeline flowing without interruption.
"There are lots of claims out there, but the efficiency and effectiveness of our transition process sets the standard," says Miller. "The experience, commitment and expertise of our people are what really make the difference."
Company Information - Pennsylvania Precision Cast Parts (PPCP) is an industry-leading manufacturer of top-quality investment castings for a broad range of parts, industries and applications. PPCP has the experience, technical expertise and quality-assurance processes necessary to consistently and reliably deliver castings up to 250 pounds in an extensive array of alloys, from steel and aluminum to highly specialized materials. Located in Lebanon, Pa., PPCP has two fully equipped facilities, cutting-edge equipment and technology, advanced processes and one of the most experienced teams in the industry. PPCP delivers investment casting excellence through exceptional People, Process and Performance.