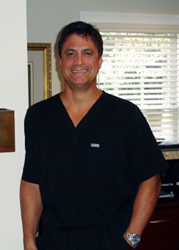 Raleigh, NC (PRWEB) December 23, 2014
Dr. Jason Cataldo now provides the Pinhole Surgical Technique™, an innovative treatment for receding gums at his practice in Raleigh, NC. Patients in Raleigh who suffer from gum recession can take advantage of this minimally invasive procedure and avoid the pain and prolonged recovery period typical of gum grafting surgery.
Gum recession is common among many individuals, and can be caused by a number of factors. Aggressive brushing, medication or tobacco use can cause recession. Since it occurs so gradually, many people are usually unaware they have receding gums, until noticing side effects such as sensitive teeth or an uneven gum line. It is important to get treatment for receding gums because, if left untreated, the open pockets around the roots of teeth can allow bacteria to enter, which leads to gum disease and worsening of the recession.
Many health professionals recommend gum grafting to treat receding gums, because until recently, that was the only treatment option. A pedicle graft involves cutting a flap from nearby gums, stretching it across the exposed root and stitching it in place. In a similar procedure, an incision is made in the roof of the mouth and connective tissue is removed and sutured to the gums. The recovery time for this invasive and traumatic surgery often takes up to eight weeks.
Dr. Cataldo is certified to perform the Pinhole Surgical Technique™, a new method of gum recession treatment that does not require incisions or stitches. Instead, he uses specialized dental instruments to loosen the gum tissue through a tiny hole. The gums are then guided back to the original position. Collagen strips are inserted to stimulate new growth while keeping the gums from drifting away from the root again. Since the procedure is minimally invasive, Dr. Cataldo can treat multiple teeth during one visit and most patients are able to return to their normal activities the same day.
Raleigh, NC residents can learn more about the Pinhole Surgical Technique™ for receding gums or schedule a consultation by contacting Dr. Cataldo's practice, or by visiting his website at http://www.carolinaperioimplants.com.
About the Doctor
Periodontics and Dental Implants of North Carolina is a periodontal practice offering personalized dental care for Durham, NC gum disease patients. Dr. Jason Cataldo attended college at the University Of Buffalo School Of Dental Medicine, completed a general practice residency at Michael Reese Hospital in Chicago, IL, and completed his periodontal training at Case Western Reserve University in Cleveland, OH. He is board certified in periodontology and Adjunct faculty at the University of North Carolina at Chapel Hill. Dr. Cataldo is part of one percent of dental professionals providing the LANAP® FDA cleared laser procedure for gum disease treatment. To learn more about Periodontics and Dental Implants of North Carolina and their dental services visit their website at http://www.carolinaperioimplants.com and call (919) 724-4273.