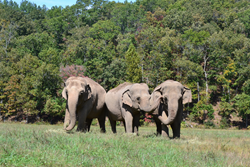 The Elephant Sanctuary in Tennessee is America's largest natural-habitat refuge for endangered African and Asian elephants.
HOHENWALD, TN (PRWEB) December 29, 2014
The Global Federation of Animal Sanctuaries –the only globally-recognized organization providing standards to identify legitimate animal sanctuaries– has awarded accredited status to The Elephant Sanctuary in Tennessee as of Dec. 10, 2014.
As confirmed through an onsite visit by GFAS, this accreditation signifies The Elephant Sanctuary meets the Federation's rigorous, peer-reviewed standards that define a true sanctuary providing humane and responsible care of animals, as well as standards around safety and security, veterinary care, and other areas of financial and organizational sustainability. Accredited status with GFAS provides a transparent, trusted means for the public, donors, and government agencies to recognize The Elephant Sanctuary as an outstanding sanctuary.
"It was a pleasure working with The Elephant Sanctuary and its staff during the accreditation process," said Jackie Bennett, Deputy Director-Great Apes and Regional Accreditation. "The sanctuary has made great progress in recent years in the care of its resident elephants, giving attention to their individual health needs while allowing them to live in as natural an environment as possible. The Elephant Sanctuary has also demonstrated its commitment to a long term plan to ensure the continuing care of the elephants as well as the ability to offer sanctuary to more elephants in the years to come."
The Elephant Sanctuary serves as a forever home for North America's captive elephants once owners are prepared to retire them from life on exhibit or in performing. Since 1995, 24 elephants have been provided sanctuary overall; currently 13 are in residence (11 Asian and two African). Sanctuary staff is open to conversations with community stakeholders and legal guardians about options for long-term elephant care.
"The Elephant Sanctuary's entire staff is deeply proud to be accredited by GFAS," said CEO Janice Zeitlin. "It's an accomplishment that reinforces the effort our team has put into sustaining our forward momentum: ensuring optimal veterinary and husbandry care of the resident elephants, expanding public education around the extensive needs of both captive and wild elephants, and facilitating operational accountability. We are eager to welcome additional elephants to Sanctuary."
The Elephant Sanctuary aims to meet the needs of this intelligent, social species by affording them: vast spaces to roam, forage, and splash; socialization within a herd of their own kind; and elephant-care that relies on non-dominant, positive-reinforcement training in a protected-contact setting. In North America, there are approximately 450 elephants living in captivity.
The Global Federation of Animal Sanctuaries (http://www.SanctuaryFederation.org) is a 501(c)(3) nonprofit dedicated to strengthening and supporting the work of animal sanctuaries, rescues, and rehabilitation centers worldwide. In assisting these animal-care facilities, GFAS works to ensure they are supported, honored, recognized, and rewarded for meeting important criteria in providing care to the animals in residence. GFAS was founded in 2007 by animal-protection leaders from a number of different organizations in response to virtually unchecked and often hidden exploitation of animals for human entertainment and financial profit. While GFAS' Board of Directors includes top leaders from Born Free USA, The Humane Society of the U.S., the International Fund for Animal Welfare, ASPCA, and American Anti-Vivisection Society, all members serve as individuals dedicated to animal sanctuaries.
The Elephant Sanctuary in Tennessee (http://www.elephants.com), celebrating 20 years in 2015, is America's largest natural-habitat refuge for endangered African and Asian elephants. It operates on 2700 acres in Hohenwald, Tenn. (85 miles southwest of Nashville), providing captive elephants with individualized care, the companionship of a herd, and the opportunity to live out their lives in a safe haven dedicated to their wellbeing. The non-profit also works to raise public awareness of the complex needs of elephants in captivity, and the crisis facing elephants in the wild.
CONTACT
The Elephant Sanctuary
Mary Beth Ikard, APR
marybeth(at)elephants(dot)com
931-796-6500, ex. 124