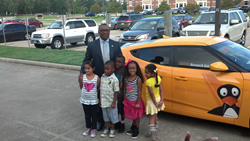 Hyundai aims to improve graduation rates, and through our partnership with MIND, we've seen ST Math jumpstart math skills and build children's love of learning in districts across the country.
Philadelphia, PA (PRWEB) December 22, 2014
Hyundai Motor America and MIND Research Institute today announced a grant to continue a proven math program in Philadelphia public schools. The grant provides MIND's ST Math®, a unique visually-based software program, to 6,300 students and 280 teachers at 19 campuses in the School District of Philadelphia this school year.
The program, already used in Philadelphia and other districts across the country, helps students gain a deeper understanding of math concepts through computer-based puzzles featuring JiJi the penguin, beginning in kindergarten and continuing through high school. Research shows that early math skills are the greatest predictor of later academic success and high school graduation – a primary focus of Hyundai's charitable investments.
"Hyundai aims to improve graduation rates, and through our partnership with MIND, we've seen ST Math jumpstart math skills and build children's love of learning in districts across the country," said Zafar Brooks, Director of Corporate Social Responsibility and Diversity Inclusion at Hyundai Motor America. "We're pleased to expand the Hyundai ST Math Initiative to help Philadelphia teachers and students improve their odds of success."
Developed by neuroscientists, MIND's ST Math instructional software program provides visual, computer-based math games that support deep understanding of concepts covered by Common Core math standards at each grade level. Because the program doesn't rely on language proficiency or prior math success, it's accessible for English Language Learners and children with learning disabilities. Students use ST Math on computers or tablet devices in a blended learning environment. The teachers are trained on how to connect the visual puzzles to their conventional symbolic texts, and coached on how to guide children through challenging sections by getting them to express their thinking, rather than simply showing them the solution. In numerous analyses over the years, schools using ST Math have experienced two to three times the growth in math proficiency compared to similar schools not using the program.
As a social benefit organization, MIND works with funding partners like Hyundai to bring ST Math to more high-needs schools. The Philadelphia schools serve some of the district's highest needs students -- 92% are from low-income families and qualify for the federal Free and Reduced Price Lunch (FRPL) program; 17% are English Language Learners; and 18% require Special Education. The students are also ethnically diverse, with 35% African-American and 51% Hispanic or Latino.
"Hyundai continues to be an outstanding partner for MIND Research and for those districts committed to changing the way their students learn math," said Matthew Peterson, Ph.D., CEO and co-founder of MIND Research Institute. "We're excited to expand our efforts with Philadelphia through Hyundai's generosity."
About the Hyundai ST Math Initiative
The Hyundai ST Math Initiative benefits over 17,350 students and nearly 800 teachers in Chicago, IL; Los Angeles, CA; Orange County, CA; Washington, D.C.; New York City, NY; Philadelphia, PA; Pinellas, FL; and Spring, TX;. Early math skills are proven to be the number one predictor of later academic success and high school graduation. To improve the pipeline of college-ready graduates, Hyundai Motor America is providing grants to high-need schools across the nation to provide unique research-based ST Math programs, teacher professional development and ongoing educational support. Follow the partnership's success using hashtag #HyundaiLovesJiJi and visiting http://www.mindresearch.org/hyundailovesjiji.
About MIND Research Institute
MIND Research Institute is a neuroscience and education social benefit nonprofit dedicated to ensuring that all students are mathematically equipped to solve the world's most challenging problems. MIND's distinctive visual approach to math and problem-solving is the basis of its innovative, research-proven ST Math® programs for elementary and secondary schools. The visually-based ST Math program has been shown to double or triple schools' growth rates in math proficiency. MIND's programs currently reach 800,000 students and 31,000 teachers in 2,500 schools in 40 states. For more information, visit http://www.mindresearch.org.
About Hyundai Motor America
Hyundai Motor America, headquartered in Fountain Valley, Calif., is a subsidiary of Hyundai Motor Co. of Korea. Hyundai vehicles are distributed throughout the United States by Hyundai Motor America and are sold and serviced through more than 820 dealerships nationwide. All Hyundai vehicles sold in the U.S. are covered by the Hyundai Assurance program, which includes the 5-year/60,000-mile fully transferable new vehicle limited warranty, Hyundai's 10-year/100,000-mile powertrain limited warranty and five years of complimentary Roadside Assistance. Hyundai Blue Link Connected Care provides owners of Hyundai models equipped with the Blue Link telematics system with proactive safety and car care services complimentary for one year with enrollment. These services include Automatic Collision Notification, Enhanced Roadside Assistance, Vehicle Diagnostic Alert, Monthly Vehicle Health Report and in-vehicle service scheduling.
For more details on Hyundai Assurance, please visit http://www.HyundaiAssurance.com
Please visit our media website at http://www.hyundainews.com and our blog at http://www.hyundailikesunday.com.