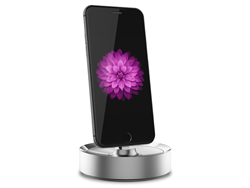 "We undertook the project knowing how hard it would be to create a beautiful dock and not just an expensive paperweight..."
Seattle, WA (PRWEB) December 23, 2014
Forge Venture Labs, a Seattle-based consumer product incubator, has unveiled their first product-brand. The BEVL dock, designed for iPhone 6 and 6 Plus, is the first in a line of premium goods that aim to establish a connection between devices and their environment in a beautifully simple way. The BEVL dock is expected to ship in early-2015 and pre-orders can be placed on their website.
The impetus for the product's development is the lack of docks on the market that showcase the iPhone; other docks obscure the celebrated industrial design. With so much of our digital lives revolving around our mobile phones, it only seems natural that they should be elevated to reflect their importance. The combination of bespoke details, such as the machined knurled base or high-polish chamfer, and timeless design aesthetic work in concert to flaunt the phone.
The carefully engineered and thoughtfully executed mechanisms of BEVL elevate the user experience. A proprietary swivel design allows for the user to tilt the phone with their fingers to any desired angle between 10 and 30 degrees. The setup process is cleverly simple and allows for the dock to accommodate iPhones with or without cases. The innovative flip cover enables the use of standard plug headphones in the base of the phone. Multiple points of contact between BEVL and the iPhone maximize stability. A micro-suction base ring provides additional stability and enables one-handed docking and undocking. Finally, the ability to wrap the un-needed length of the connector cable within the dock helps reduce clutter on the desk.
Product Features:

Compatible with both iPhone 6 and iPhone 6 Plus as well as the iPhone 5, 5S and 5C and the iPod Touch that utilize the Lightning connector
Requires Apple Lightning connector, not included (user supplied)
Accommodates most cases that follow Apple's Case Design guidelines
Adjustable angle between 10 degrees (default) and 30 degrees
Flip-able cover allows for headphone port access when device is docked
Multiple points of contact between device and dock as well as micro-suction base hold phone securely
Integrated cable wrap reduces unnecessary cable clutter
Precision machined from aluminum with a bead blasted finish with polished edge detail
Pre-orders at special price of $89 ($129 MSRP) ship in Early-2015
"We undertook the project knowing how hard it would be to create a beautiful dock and not just an expensive paperweight. Without David on the team this might not have been possible," says co-founder Justin Knowles of fellow co-founder and designer David Czarnecki. The team hopes to follow-up the release of the iPhone dock with an Apple Watch product in Spring 2015.
Website – http://bevl.co
Press & Media Info – http://bevl.co/press
Media Image Gallery – http://bevl.co/media
ABOUT BEVL
Founded in 2014, Seattle-based BEVL is a group of maverick designers and engineers. BEVL products create a connection between your devices and your environment in a beautifully simple way. The essence of BEVL blends carefully tailored bespoke details with precision metal machining and a timeless aesthetic. BEVL redefines the status quo by creating technology accessories with an uncompromising spirit.
Copyright (C) 2014 Forge Venture Labs dba BEVL. All Rights Reserved. Apple, the Apple logo, iPhone, iPad and iPod are registered trademarks of Apple Inc. in the U.S. and/or other countries.