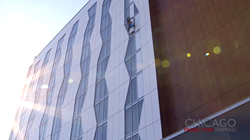 We realized that we were encountering the same questions or concerns, regarding 3D Projection Mapping
(PRWEB) December 26, 2014
Chicago IL: Chicagoland-based projection mapping and media company Chicago Projection Mapping (CPM) is excited to announce a new introductory video that explains core concepts of the innovative 3D projection mapping field. The genesis of the project began with commonly asked questions about what is still a developing medium, in order to give event planners and companies discussing projection mapping a common vocabulary. Perhaps most insightfully, the educational video showcases Chicago Projection Mapping's official system for analyzing 3D and 4D Mapping, which they refer to as CPSMA, referring to Content, Projection Hardware, Surface, Mapping, and Audio.
While the internet is replete with enthusiastic tutorials created by intelligent hobbyists and amateurs, Chicago Projection Media's Mapping CPSMA Video marks the first complete, professional, high-end basics video released to the public. The quality of the video and the clear communication of basic concepts makes it easier for event planners, creative groups, or AV companies to translate these concepts to their clients. In other words, it makes explaining the technicalities easier so clients can spend more time dreaming up possibilities.
"We realized that we were encountering the same questions or concerns," Mark Smith, founder of Chicago Projection Mapping said. "For example, we had a lot of people asking about what we mean by surface or what exactly mapping entails. This video can answer all of those questions beforehand, so we can spend more time talking about creative surfaces and imaginative content." The CPSMA approach covers most of the variables that can come up in discussions over new projects.
The video itself was designed to get main ideas across in a way that was unique, entertaining, and succinct. In today's media landscape, Chicago Projection Mapping is acutely aware that it can be difficult to hold anyone's attention for more than a few minutes - especially for live activations and brand events. As more and more people come to understand the power of three-dimensional projection mapping, the services offered by companies such as Chicago Projection Mapping will become more popular. This simple video will serve as a kind of introduction to projection mapping for a wide variety of events. The real power of this form of entertainment is in the creativity and expertise of the individuals building the final display.
While this video only scratches the surface of what is technically required to build any architectural mapping experience, it offers clients enough basic understanding that conversations can move away from the how and towards the awesome. To learn more about the production of this educational video and the services offered to clients, contact Chicago Projection Mapping at info(at)ChicagoProjectionMapping(dot)com.
About Chicago Projection Mapping: Based in Chicago, IL, Chicago Projection Mapping is a full service content creation and 3D projection mapping company, serving the corporate, event, meeting, and convention sectors. For more information, please visit http://www.ChicagoProjectionMapping.com, or call 630-620-0000.