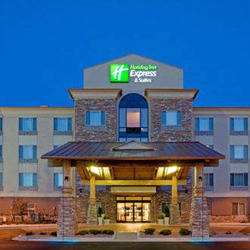 Special National Western Stock Show hotel rate.
Denver, CO (PRWEB) December 26, 2014
The Holiday Inn Express Denver International Airport hotel today announced a special rate for the annual National Western Stock Show, taking place January 10-25, 2015 at the National Western Complex in Denver. This 16-day event features a variety of livestock and horse show events, in addition to over 300 vendors and other exciting activities. The Holiday Inn Express Denver Airport hotel is pleased to welcome guests at the end of the day for just $109 per night, plus tax.
Attendees are encouraged to make their hotel reservations while there is still room. To book, contact the Holiday Inn Express DIA directly at (303) 373-4100 and mention the Stock Show rate. Offer is subject to availability.
Conveniently located near the Denver International Airport (DIA), the Holiday Inn Express Denver International Airport hotel provides the comforts of home and easy access to all things Denver. Guests appreciate the hotel's close proximity to Lockheed, Raytheon, BAE, Buckley Air Force Base, University of Colorado Medical Complex, Denver's major highways and a variety of the Mile High City's best attractions. Whether traveling for work or play, there are hotel amenities to meet all needs, including a 24-hour business center, meeting facilities, free high-speed wireless Internet, 24-hour fitness center, on-site car rental agency, indoor pool and spa, free 24/7 airport shuttle service and on-site restaurant, Sporting News Grill. The Holiday Inn Express Denver International Airport hotel is proudly managed by Stonebridge Companies in Denver, CO.
Founded in 1991 by Navin C. Dimond, Stonebridge Companies is a privately owned, innovative hotel owner, operator and developer headquartered near Denver, Colorado. The company's current portfolio entails 45 hotels with over 7,000 rooms nationwide. This diverse listing of properties includes select-service, extended-stay, mid-scale and full-service hotels in markets throughout the U.S. For detailed information, visit our website at http://www.SBCOS.com.