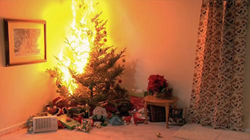 Dr. Peter Grossman explains, "We have seen 3rd degree, full thickness burns that require multiple surgeries in our burn center as a result of these types of injuries."
Kansas City, MO; Kansas City, KS; Overland Park, KS; Bakersfield, CA; Los Angeles, CA. (PRWEB) December 23, 2014
Cooking is the leading cause of burn injuries this time of year. Burn Centers have already seen an increase during Thanksgiving, and expect this trend to continue. There are many different types of cooking related burns that can range from minor to very severe. Sadly, many of these burns are severe enough that they require surgical procedures in a burn center. In addition, many home fires are started in the kitchen.

Unattended cooking is the leading contributing factor to why these fires are started.
Frying food poses the greatest risk for injuries and fires. Grease burns are very common.
Do not wear loose clothing while cooking. Large sleeves and bathrobes can be very dangerous near the stove, and easily catch on fire.
Create a "safe zone" and keep children away from the cooking area at all times.
In addition, with the colder winter weather, many burns are caused by the use of space heaters. Space heater injuries can be very severe. Approximately 1/3 of home heating fires are caused by space heaters. Dr. Peter Grossman, Medical Director for the Grossman Burn Centers explains, "We have seen 3rd degree, full thickness burns that require multiple surgeries in our burn centers as a result of these types of injuries."
The biggest factor in preventing fires is to keep the area around the space heater clear. Blankets, clothing, and furniture need to be a safe distance from the space heater.
Never fall asleep while a space heater is on.
Space heater use should always be monitored, particularly around children. Do not leave a space heater unattended; turn off when you leave the room.
Another unfortunate injury that occurs in the winter is frostbite. This is an injury treated commonly at The Grossman Burn Center at Research Medical Center in Kansas City, Missouri. Many people are surprised that burn centers treat frostbite, but it is actually a type of thermal burn that involves the freezing of the tissue. Burn centers have treated quite a few of these injuries, and the use of hyperbaric oxygen is an integral part of the treatment that speeds up the healing process.
Lastly, decorations at the holidays pose a dangerous threat for burn injuries as a result of fires. Candles are commonly used but they should never be left unattended, particularly around children and pets. Battery operated candles are a recommended safe alternative. Christmas trees also pose a dangerous risk. If a real tree is in use, make sure to keep it watered, and turn off the lights before going to bed.
If you would like more information regarding burn safety, please feel free e to visit
http://www.grossmanburncenter.com or contact one of our 3 Grossman Burn Center locations. The Grossman Burn Center has 3 locations to serve you: Los Angeles, CA (818)-676-4177; Bakersfield, CA (661)-395-3000 x6135; and Kansas City, MO (816)-276-4325.
About Grossman Burn Centers:
Founded in 1969 by Dr. A. Richard Grossman, the Grossman Burn Center is the largest plastic surgery-based burn practice in the western United States. Headquartered at West Hills Hospital, the Grossman Burn Center has facilities at West Hills Hospital, West Hills, CA; San Joaquin Community Hospital, Bakersfield, CA; and Research Medical Center, Kansas City, MO. Renowned for expertise in providing acute and reconstructive burn care, rehabilitation and post-treatment emotional and psychological support, GBC has received global recognition for its treatment of some of the most difficult and high-profile burn cases in the world. For more information: http://www.grossmanburncenter.com.
Contact: Mica Wiemann, Program Coordinator, Grossman Burn Center at Research Medical Center (816)-276-4885.