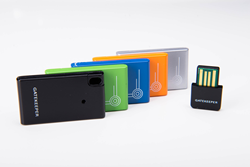 College Park, MD (PRWEB) December 23, 2014
In a season colored by red, green and gold accessories, even necessities could benefit from a little shimmer. GateKeeper (GK-chain) recently released a gold colored device to add some holiday spirit to their collection of existing colors: black, silver, blue, green and orange.
The GK-Chain can be used for all computer-locking purposes, whether you want to keep family members out of your personal files while gathered around the fireplace or your company wants to ensure no hackers can access holiday sales information. Blur the line between accessory and necessity before the end of the year with a gold GK-Chain and protect your computer information.
"The device itself is quite slick and small. Perfectly dimensioned for anything that you will slip in and out of your pocket," Sami Mughal of OxGadgets.com said.
At about the size of a house key, the GK-chain fits into any stocking, and paired with GateKeeper's holiday sale, the GK-chain makes a valuable gift for all people who like to keep their information safe. Many have found use in their offices (IT), schools, hospitals and healthcare providers (HIPAA), and many more.
Take 25 percent off at the online checkout as a part of the holiday sale at http://www.gkchain.com.
About GateKeeper GK-Chain
The GateKeeper Chain is an electronic key and lock set that works over Bluetooth 4.0 (Bluetooth SMART/Low Energy) wireless technology, combining a personal sensor with an encrypted connection that unlocks your computer. The password is encrypted and stored on your PC, not the GK-Chain—so no one can steal it. The result is effortless security for your computer when you walk away, and easy access when you return. After a successful Kickstarter campaign, GateKeeper is in the midst of a huge beta test.