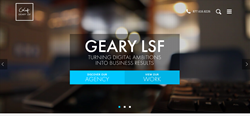 The exciting part of launching the new site was re-inventing the voice of our brand...
San Francisco, CA (PRWEB) December 23, 2014
Award winning digital marketing agency, Geary LSF, has designed and developed dozens of websites for companies large and small over the last 15 years. Turning the tables with their most recent project, Geary LSF is excited to announce the launch of their own mobile responsive agency website.
The project was executed using Geary LSF's four-phase standard client approach. The iterative and collaborative technique ensured a superior product that put client education and experience at the top of the priority list.
"As strong proponents of mobile-optimized web properties and a philosophy that users should have the desktop experience across all devices, the foundation of what we were looking for in a new agency website was clear," says Geary LSF Marketing Director, Katie Colleton. "The exciting part of launching the new site was re-inventing the voice of our brand and how we wanted to relay our message to the consumer."
Relaying that message from an aesthetic perspective, Tim Borillo, Geary LSF Art Director, took the reigns leading the design, which is infused with abstract imagery, clean and simple navigation, and movement that leads the eye to areas of significance. With the implementation of a long-form homepage, website visitors can familiarize themselves with Geary LSF's services, clients and past work, as well as the agency's omni-channel client strategy, in one quick scroll of the page. An advanced search feature with suggested type functionality allows for succinct browsing of content and a revamped blog provides additional educational opportunities to site visitors.
"Our goal with launching the new agency website was not only to showcase our team's creative capabilities in a format we all could be proud of, but more importantly, to educate our clients and prospective clients on the importance of an integrated approach to marketing" continues Ms. Colleton. "With the new design, explanatory website copy, and overall approach, I believe our goal will be achieved."
For more information on Geary LSF and to view the new website, visit http://www.gearylsf.com. For inquiries regarding the Geary LSF service offerings, including web design and development, contact sales(at)gearylsf(dot)com.
About Geary LSF
Geary LSF is a full service digital marketing agency headquartered in San Francisco, with additional offices in San Diego, Chicago, Boston, Philadelphia and St. Louis. Specializing in an omni-channel marketing approach, the team turns digital ambitions into business results for more than 450 brands worldwide including: WD-40, Bumble Bee Foods, Target, Ashley Furniture, Megapath, Aramark and several others. For more information, please visit http://www.gearylsf.com.