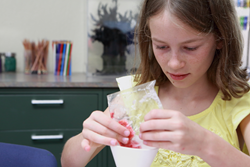 "Hands-on learning provides an effective platform for educators to tailor learning to the needs of their students." Grainger Marburg, RAFT CEO
San Jose, CA (PRWEB) December 23, 2014
After celebrating its 20th anniversary in March, RAFT proceeded to have a record-breaking year of enhancing education for students and educators. RAFT is a California-based nonprofit organization dedicated to equipping educators with effective and affordable teaching tools that engage students through hands-on learning strategies. It is more critical now than ever to make sure every child is given the chance to succeed in school and gain confidence in STEM (Science, Technology, Engineering, and Math) subjects. RAFT is determined to make quality education a reality for all students. In 2014, students benefitted from more than 600,000 hands-on learning experiences through RAFT Activity Kits, nearly doubling 2013 impact.
Today's educators are tasked not only with teaching content, but also instilling practical 21st century skills that all students need for success in school and an ever-changing global economy. Educators need to utilize a variety of teaching techniques to help their students develop skills such as critical thinking, problem solving, and collaboration. Hands-on and project-based learning activities like the ones RAFT creates are important factors in the education equation, and their growing popularity is a testament to their importance and effectiveness. In 2014, more than 2,700 educators participated in RAFT professional development programs to master new techniques to enhance the incorporation of hands-on learning into their arsenal of teaching methods.
"I push students to try new things, to make mistakes, to ask questions, and to be open to new ideas and information," said Becky Regan, 5th grade teacher at Horrall Elementary School in San Mateo and RAFT professional development participant. "I'm passionate about learning new techniques and hands-on activities so that I can use them in the class in order to make learning more enjoyable and meaningful. I use RAFT materials often and my students love having something to keep once the lesson is over."
In April, 80,000 students received a RAFT Hovercraft activity at the USA Science & Engineering Festival in Washington D.C. These kits gave young students a hands-on experience to learn about friction, air pressure and inertia from assembling a gliding vehicle model made from a CD, balloon, sports bottle cap, and foam. The process of assembling the model helps students gain a deeper understanding of the scientific concepts while providing a tangible tool to help students form questions, test hypotheses, and learn.
There is no shortage of teaching tools available to educators, but RAFT strives to remove the barriers to access by making the 100+ curriculum-aligned kits affordable. In addition to using donated or commonly-found materials to create the activities, all of the kits are assembled by volunteers at the organization's Sunnyvale, CA facility. Also in 2014, RAFT volunteers achieved two more important milestones. In February, one group assembled the organization's 500,000th Activity Kit and in October, Cisco IT managers broke the company's and RAFT's record for largest group volunteering event.
Income data shows a widening gap in income levels which makes it more important than ever to ensure all students have access to effective, quality STEM education tools. As this trend continues, RAFT predicts higher demand for its services in 2015 and, therefore, the continued support of volunteers and donors of both funds and educational materials.
"Hands-on learning provides an effective platform for educators to tailor learning to the needs of their students," said Grainger Marburg, CEO of RAFT. "Making sure that every child receives a quality education requires innovative tools and methods as well as collaboration between educators and organizations."
About Resource Area For Teaching
RAFT believes the best way to spark the love of learning for the next generation of thinkers, innovators, problem-solvers and creators is through hands-on learning. A nonprofit organization since 1994, RAFT serves 12,000 educators each year who teach over 900,000 students. Find out more about RAFT and how to get involved at http://www.raft.net.