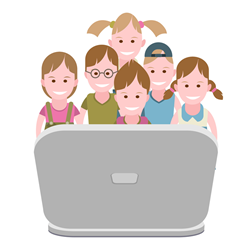 Everyone in this country should learn to program a computer because it teaches you how to think - Steve Jobs
San Jose, CA (PRWEB) December 24, 2014
New efforts are underway to raise money to help fund Programming workshops at several Bay Area libraries. And, if the founders have their way, one should start hearing more about their efforts at other libraries across the country as well, as there is interest from libraries in Michigan, Wyoming, and Indiana just to name a few.
MathAndCoding is a non-profit organization that has been started to spread computer science and programming awareness among young kids (http://www.mathandcoding.org).
Workshops are organized in local libraries where kids of all ages are taught the basics of programming. For elementary school kids, visual programming languages such as Tynker and Scratch are taught. For middle and high school students workshops are conducted to teach Java programming language.
MathAndCoding has been able to recruit volunteers and friends to conduct these workshops. So far, over 200+ kids have benefited from the MathAndCoding programs at over seven Bay Area library locations. Please visit http://www.mathandcoding.org to get a perspective on the efforts and the impact that MathAndCoding has had.
The next steps are to expand the program to reach out to more kids in more libraries.Their stumbling block has been the availability of laptops for kids. Usually, libraries provide access to their desktops for the coding sessions. Some libraries have very few desktops. Other times, libraries are unable to reserve their desktops for the program as it prevents other library patrons from using the desktops and causes inconvenience.
The kids are encouraged to bring their own laptops to the programs. However, not all parents are well off (especially in economically under-privileged communities) to provide laptops to their kids. The enrollment in the workshops has often declined when kids have to bring their own laptops.
This has promoted the organization to start a new fundraising campaign through IndieGoGo. The goal is to raise $10000 which will enable the purchase of 50-70 Laptops and reach out to 50 kids at a time in the workshops that are planned to start simultaneously at several libraries. No kid should be left out, and everyone who is interested needs to be taught Programming, whatever their economic background might be.
The founders firmly believe that programming is an essential tool for many fields. Many schools do not offer programming classes at all. Some school districts offer it only in high schools. The earlier kids are exposed to computer science and programming, the more confident they feel about it.
Nikhil and Vineet are hoping to raise enough money to buy Chromebooks/Laptops that are needed for the success of the Coding for Kids programs starting early next year. The goal is to raise the money to have enough computers on hand for the many workshops starting next year.
One can either donate directly through the website http://www.mathandcoding.org or at https://www.indiegogo.com/projects/coding-for-kids--2/x/9461985