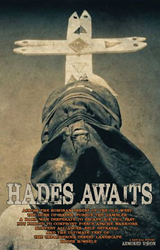 A western like no other.
Hollywood, CA. (PRWEB) January 15, 2015
Armored Vision has made some additions to the cast of the highly anticipated Western Hades Awaits. Check us out at: http://www.facebook.com/hadesawaits . Joining the team as the lead role is the talented Michael Alvarez as The Gambler, Heraclio Baca. Alvarez is listed as a star on the rise, and is coming off a stellar performance in his last role as The Chancellor in NEW WORLD ORDER.
"Michael is a great talent, with a vast range, the moment he read, we knew we had The Gambler, Heraclio Baca." -Nathan Hill, director.
Miss Rodeo Arizona 2013 and accomplished theater actress Brittany Truman will play the role of Rhea, a character that demands a physical side.
"Brittany is not only a great actress but also a real talent with a horse," says Producer Keith Wilson. Ex-NFL Star and T.V. personality and Co host of Man Caves, Tony Siragusa is currently reviewing the role of Chucho Vega, "It would be great to add the Goose to our cast", says Keith Wilson.
The casting for this picture has been a long process, due to the complex characters in the story.
"We have been meticulously weaving our cast together and have so far achieved an all-star group, with many more to come." states Director, Hill.
With the cast almost complete the next step is fundraising on the Indie Go-Go fundraising platform. "We are truly excited to engage in this process, never before has the connoisseur and creator been able to come together and collaborate" -Keith Wilson.
Stay tuned for more updates as we forge ahead to production! Our website is: http://www.Hadesawaits.com