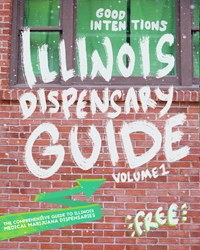 Comprehensive Guide to Illinois Medical Marijuana Dispensaries
Chicago, Illinois (PRWEB) December 23, 2014
With the impending announcement of Illinois medical marijuana dispensary licenses, Chicago's first medical marijuana business, Good Intentions, has announced it will be publishing the first Illinois guide to medical marijuana dispensaries. The publication will be released in January 2015.
Good Intentions CEO Tammy Jacobi, explained the need for the guide, "Our company is responsible for assisting a very large portion of the Illinois patients that have received state approval to the medical cannabis pilot program. On a daily basis, patients ask us a myriad of questions concerning dispensaries. We're creating the guide to provide information to all Illinois residents in regards to the dispensaries that will be in their neighborhoods."
Good Intentions is currently navigating over 1,000 Illinois residents through the medical marijuana application process. Jacobi stated that "Good Intentions has built a solid foundation in the medical community. Physicians trust that we'll help their patients through the complex process of applying for an Illinois medical cannabis card. Part of the process includes choosing which dispensary they'll use."
Volume One of the guide will emphasize what Jacobi calls "the structure and depth of a dispensary." "We'll underline the value of these businesses by peering in to see what will make them successful in helping patients." Jacobi's guide will promote transparency and assist patients in making smart health care choices. Jacobi added "We'll be answering some serious questions like, how much does it cost and what kinds will they have?"