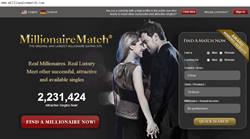 Los Angeles California (PRWEB) December 24, 2014
According to the data on MillionaireMatch.com revealed on Dec.15, females prefer that their matches have either their PhD (24.46%) or a bachelor's degree (24.46%), while men could really care less about education by choosing no preference (43.35%).
MillionaireMatch.com, the largest millionaire dating site for successful people, provides 10 categories for its members to choose the highest education they prefer when finding a match on the site. The ten categories are "high school", "some college", "current college student", "associates", "bachelor's", "current grad school student", "graduates", "PhD.", "other", and "no preference".
According to the data analysis on Millionaire Match on Dec.15, 31.39 % female millionaires have their Bachelor's degree and 10.36% have their PhD./Post Doctoral degree. 33.18% male millionaires hold a Bachelor's degree and 17.13% hold a PhD./Post Doctoral degree.
When asked about their match's highest education, only 23.13% female millionaires chose "No preference", 24.46% preferred that their match held a Bachelor's degree. 24.46% thought that a PhD. degree was good. While for male millionaires, 43.35% had no preference whether their partner was educated or not. Only 13.94% chose "bachelor's" and 12.3% showed that they would find someone who had a PhD. degree.
The difference in the findings may be because females and males have a different outlook on the influence of education to one's career. It's already been proven that millionaire men prefer to take care of their partner while millionaire women prefer to be with someone who is equally successful, which could also explain the findings.
Despite the differences, most millionaires those are dating have a degree in higher education, which shouldn't be surprising as most millionaires hold positions that require a higher education to match their salaries. Successful people usually have had to continue their education to move up in their fields or to make more money.
Dating a millionaire is challenging in real life. It's hard to meet a millionaire. Even if people are millionaires, they have little time to date. MillionaireMatch.com is the best way for people who are successful to meet other likeminded people who live a very similar lifestyle.
About MillionaireMatch
MillionaireMatch.com is an online millionaire matchmaker which has brought together successful singles for over 13 years. There are millions of people coming here every day including CEOs, pro athletes, doctors, lawyers, investors, entrepreneurs, beauty queens, fitness models and Hollywood celebrities, just to name a few. MillionaireMatch.com was voted as "Best of the Web" by Forbes.com.