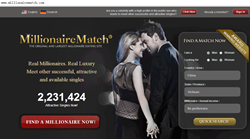 Los Angeles California (PRWEB) December 31, 2014
MillionaireMatch.com is one of the most unique dating sites online that brings together millionaire singles from around the world to match with other highly successful singles. It only makes sense to look for a high profile, successful and rich partner when the person looking to date is a millionaire himself/herself. It has been widely seen, surveyed and observed that in match making, the eye color of people plays a role.
The site collects the information about the eye color of the registered and verified millionaires and also their preference about the eye color they are looking for in their dating partners. As per the data analysis of the site members, most of the millionaire singles have blue or brown eye color, and even if over 80% of the millionaires do not have any particular fixation over the eye color their partner should have, they'd prefer to have a blue eyed partner. Having a green eyed partner is second on their list with 21.34 % people looking for partners having green eyes, and only 6.32% prefer to have black eyed partner. The site aims to help successful singles find a millionaire dating partner like never before.
MillionaireMatch.com is a millionaire dating site that allows millionaires to match with other millionaire singles with such details in preferences, options and personal choice. The site also has a very stringent verifying process for millionaire dating to ensure that the data presented to its members are accurate and trustworthy.
The site dives deep into the concept of eye color preferences among the millionaire singles and presents data for the awareness and knowledge of its members. As per the research of this millionaire matchmaker site, it has been seen that the millionaire male singles prefer blue and brown eyes mostly in their female partner, and female millionaire singles look for hazel, green and blue eyes of their partner, and in that order. For successful singles looking to date a millionaire, things have never been so easier, as it is now with MillionaireMatch.com.
Check the luxuries millionaire are interested in here:
http://luxury.millionairematch.com/
About MillionaireMatch
MillionaireMatch.com is one of the most trusted dating sites online focused on millionaire matchmaking. The site allows the millionaire singles to find other successful singles as per their preference. The site even allows the millionaire singles to match with other singles as per their eye color preference, a unique concept introduced by the site.