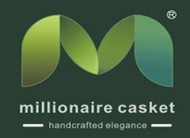 (PRWEB) January 02, 2015
Today, MillionaireCasket.com, a famous online supplier of various kinds of wonderful caskets, launched its wooden casket promotion. The big discounts are up to 30% off.
"The great price cuts are available for a limited time only. Visit our website and choose the models you need please. Our staff will contact with you in 24 hours. We have many wooden caskets in different sizes and designs. All of them are manufactured carefully," the CEO of the business says.
As an experienced manufacturer of caskets, MillionaireCasket.com deploys advanced machinery in casket production. It has the ability to offer the best quality caskets in various types to global customers. In addition to wooden caskets, the company's stainless steel caskets and bronze caskets are popular in the market. Its manufacturing facility is fully equipped with the latest technology machinery.
"Our expert team of professional craftsmen can ensure every product is manufactured based on customers' requirements. Different chemicals are used to keep the inside and outside of every casket clean. As a professional casket manufacturer, we offer flexibility in terms of material species, finish and color, interior fabric and styles."
About MillionaireCasket.com
MillionaireCasket.com is a leading casket company based in China. It focuses on the business of casket wholesale. It offers an exquisitely crafted line of all kinds of metal caskets, solid wood caskets, veneer caskets, cremation caskets, rental caskets, orthodox caskets, infant or over-sized caskets and European style coffins.
For more detailed information, readers can visit: http://www.millionairecasket.com/59-wood-caskets