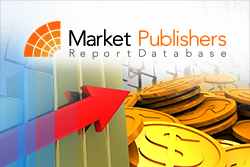 London, UK (PRWEB) December 23, 2014
Market Publishers Ltd and Parks Associates signed a partnership agreement for quality market research promotion on Internet. MarketPublishers.com is now authorised to distribute and sell Parks Associates reports.
"We are glad to announce that our group of partners has recently been enlarged with a new publisher from the USA – Parks Associates, a globally acclaimed market research firm and consultancy specialising in emerging consumer technology services and products. Since its foundation in 1986, the company has provided businesses ranging from start-ups to Fortune 500 corporations with vital research capital via market studies, primary consumer research, custom projects and consultation, competitive and industry analysis, workshops and seminars, executive conferences, and annual service subscriptions, among others. Parks Associates' services will surely be a valuable gain for our culturally diverse clients seeking to boost decision-making effectiveness and enhance their businesses performance," commented Natalie Aster, Assistant Manager at Partners Department.
Comprehensive market research reports by Parks Associates:
Internet of Things Interoperability 2Q 2015. Interoperability across devices is crucial, expected by consumers and required by a diversity of value-added services. Business interests, though, often impede it. The research report discusses the significance of interoperability, identifies the different technologies utilised by players in the smart home universe, and also limelights how interoperability solutions are influencing the future direction of the smart home …
New Business Models for Connected CE 3Q 2014. The research study examines the opportunities and challenges of generating monthly recurring revenue from selling content placement and advertising revenues. The report provides 5-year global forecasts for the share of monthly recurring revenue which connected devices can possibly obtain along with their influence on video subscriptions and advertising revenues for multiple service operators and telecommunications companies …
Digital Engagement of Consumers: Home Energy Management 4Q 2014. Getting consumers involved in energy management has been a continuous challenge for public utilities. Digital media along with connected products, smart home services, and applications provide a host of novel opportunities for utility companies to engage customers. It is important to gain an understanding of target segments and context so that programmes are directed at major decision points when consumers are actively involved, instead of trying to engage the extremely passive mass market. The study contains case studies and scenarios for success of the market …
TV Everywhere 2.0: The Next Steps in Multiscreen 1Q 2014. The services such as TV Everywhere and/or multiscreen services have become common use, solution providers are thrusting multiscreen into its next phase of development. The report provides an in-depth examination of the latest trends in TV Everywhere to lay bare what is next for this technology, including the novel features, new competitive scene, and new focus areas for vendors and operators. The report canvasses the implications for these changes, evaluates the future development path of multiscreen services, and offers detailed forecasts for multiscreen services to 2018 …
More details on the publisher and its studies can be found at Parks Associates page.