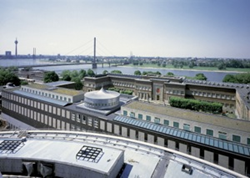 A giant art fair for any budget
Düsseldorf, Germany (PRWEB) December 23, 2014
The annual "Big One" at the Museum Kunstpalast in Düsseldorf deserves its name for several reasons: It's Germany's biggest contemporary art show by artists for artists featuring a large variety of styles and media such as painting, sculptures, photography, graphic design and new media; it is one of the oldest (2015 will be the 111th year the show is in existence); it features about 130 artists; and the art can be purchased onsite, making it one of the biggest art fairs at a museum. Last but not least, the show is major magnet for art enthusiasts and drew about 2,000 visitors at this year's opening.
Another unique feature is that the art shown is not curated by the museum but chosen by a jury of artists out of a pool of applicants. 700 applicants entered for the 2015 show, and 130 were accepted. Adding to the show's appeal is its function as a giant art fair for any budget, with prices for the art ranging from about €100 to about €60,000 or more. Buyers usually include national and international museums, art institutions, and private collectors. The event is a showcase for the multifaceted art scene of Düsseldorf and the region, and is just one indication of the size and variety of the local art world and of Düsseldorf's status as one of Europe's art capitals.
One artist is chosen each year as the winner of the "Artists' Art Prize" (Kunstpreis der Künstler), and the 2015 prize winner is Düsseldorf-based Felix Droese. Another annual prize given is the event's art sponsorship for young artists, and this year's recipient is Düsseldorf-based David Pollmann.
In addition to the exhibit, an extensive performance program is offered by a local art institution.
For more information on the upcoming exhibit including a program of the 2015 show and a list of participating artists, please visit: http://www.diegrosse.de.
Düsseldorf's tourism office is offering hotel and city specials for many of the city's events. The package, called "Düsseldorf à la Card," can be booked right from the tourism office's website at https://www.duesseldorf-tourismus.de/en/accommodation/hotel-packages/duesseldorf-a-la-card/. Prices currently start at €49 per night per person based on double-occupancy for a 2-3-star hotel in the city center and at €95 per person for a 4-star hotel. The package includes breakfast, one DüsseldorfCard (free public transportation within city limits plus 30 free or reduced admissions to city attractions), and a city information package. Please check the website for current information.
For more information about Düsseldorf, please visit: http://www.visitduesseldorf.de.
# # #
Düsseldorf Marketing & Tourism GmbH is the visitors and convention bureau of the city of Düsseldorf. Its responsibilities include tourism and city marketing, as well as conference and meeting marketing, hotel reservation services, fairs and convention services, city event ticket sales and advance ticket reservations. For more information, visit http://www.visitduesseldorf.de.
Düsseldorf Airport, Germany's Next Generation HubTM, offers several non-stop flights from US & Canadian cities (Atlanta, Chicago, Ft. Myers, Los Angeles, Miami, New York, Newark), as well as convenient connections to many European cities. For more information about the airport, visit http://www.dus.com.