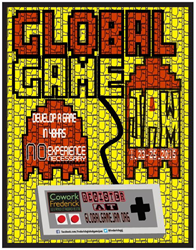 Frederick, MD (PRWEB) December 29, 2014
Scheduled to take place from January 23rd through January 25th at Cowork Frederick, located at 122 E. Patrick Street, this will be the first event of its kind in the area. The Global Game Jam is an event where people come together to create games in less than 48 hours. Adding to the challenge, the game's theme is not announced until the start of the event. During the 3-day period, participants must design, develop, create and test their games. Event highlights include a theme reveal and presentation, brainstorming event and a pitch & critique session. A social on Friday, January 23rd kicks off the weekend.
Those interested in computer science, game development, game design as well as art, music and the world of gaming as a whole will find the Frederick Global Game Jam to be 2015's "must attend" event. Key attendees are expected to include a large number of college students, adults under age 35 and high school students. Experience with game design is not necessary to attend a Global Game Jam, nor is any level of programming skill. Many diverse skills, such as writing, art design and sound design, are all need to help bring game design to life.
Participation is free. To register, visit http://www.globalgamejam.org to create a profile. Then simply register to attend at http://globalgamejam.org/2015/jam-sites/cowork-frederick
About the Sponsors
Cowork Frederick, a shared workspace community of designers, programmers and other independents, has been a hub of creative activity in Frederick since 2012. The collaborative environment fosters the growth and development of both new and established businesses, and provides a professional environment for client meetings, classes and presentations.
Jesse Smith is founder of the University of Maryland's Global Game Jam and the school's Game Developer's Club. Smith says, "We're trying to bring together Frederick's art community with our area's growing tech community. We have high hopes that this innovative event will become a community mainstay and an annual event. We think people are going to be very excited once they experience what Global Game Jam has to offer."
About Global Game Jam
The Global Game Jam is the world's largest game jam/game creation event, taking place at different locations around the world. It marks an opportunity for those interested in video games to come together to explore the creative process and collaborative possibilities of gaming, with the entire gaming cycle condensed into a 48-hour period. The Global Game Jam encourages participants to explore new technology, new tools and test their own skills as they design, develop and test a new game in 48-hours. Visit http://www.globalgamejam.org for more information.