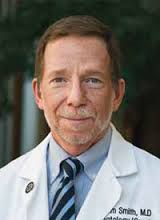 Too many physicians avoid uncomfortable conversations.
Savannah, GA (PRWEB) December 23, 2014
Hospice Savannah, Inc. & The Steward Center for Palliative Care's seventh annual Lecture Series will feature Thomas J. Smith, MD, the Harry J. Duffey Family Professor of Palliative Medicine, professor of oncology at the Sidney Kimmel Comprehensive Cancer Center and director of palliative medicine at Johns Hopkins Medical Institutions in Baltimore, MD.
As a passionate pioneer in this relatively young board-certified specialty of palliative care, Dr. Smith advocates for open and honest communication with patients, setting medically appropriate goals and offering the best symptom management.
He believes, "Too many physicians avoid uncomfortable conversations regarding pain and difficult decisions about patients' future," and wishes his peers would learn to use the three simple words, "Tell me more," when speaking with their patients. Dr. Smith will provide evidence-based research to show how early access to hospice and palliative care actually extends life, and through honest and engaging discussion, he will share practical tools to deal with difficult physician-patient conversations.
There will be an invitation-only reception and lecture for physicians on Thursday, Jan. 29 sponsored by the St. Joseph's/Candler Foundations and by the Endowment Fund of the Georgia Medical Society. The next morning, Dr. Smith will present at Memorial Health University Medical Center's Grand Rounds sponsored by Dr. Martin H. Greenberg, and at noon on Friday, Jan. 30 there will be a community lecture with a complimentary lunch sponsored by Bart, Meyer & Company.
The public is warmly invited to attend the Jan. 30 community lecture which Dr. Smith has entitled "Things no one wants to think about, but should: The advantages of advance care planning, or, how I taught my nephew to make my special peach cobbler." It will be held at noon at the Jewish Educational Alliance, 5111 Abercorn St., Savannah. RSVP for the complimentary lunch by calling 912.298.0313.
About the company:
Hospice Savannah, Inc., a not-for-profit organization, provides the community with the best services and resources for living with a life-limiting illness, dying, death, grief and loss. Hospice Savannah exists to help lift the burden of worry when people receive or a loved one receives a life-limiting diagnosis. Together, more than 250 volunteers and more than 200 full- and part-time staff members are committed to fulfilling the mission of Hospice Savannah. For more information, call 912-355-2289 or visit their website.