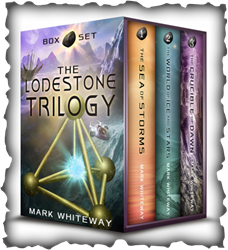 "By offering this opportunity for one reader to become immortalised in a future Arc of the Universe episode, I believe it is a fun and imaginative way to appeal to the readers' imaginations."
Storrington, West Sussex (PRWEB UK) 25 December 2014
Author Mark Whiteway has created a new online competition and book giveaway that provides a unique opportunity for one science fiction reader to have a character named after them. The concept is simple but set in stages. From January 1st, 2015, those who purchase either the first or second Lodestone Trilogy will also receive episodes one to five of Arc of the Universe, Whiteway's latest book series. Entrants must provide a review of their copy of the Lodestone Trilogy and publish to Amazon.
The second part of the competition will have one name drawn at random and the ultimate winner will gift their name to a brand new character and be captured in print forever. The winner will also receive a copy of the Arc of the Universe episode containing their namesake once it has been published.
"The aim of the author is always to attract new readers," says Whiteway, "and by offering this opportunity for one reader to become immortalised in a future Arc of the Universe episode, I believe it is a fun and imaginative way to appeal to the readers' imaginations."
Whiteway is used to exploring innovative marketing techniques. He takes book promotion as seriously as his writing, recognising that there has to be a mid-way point between the author and the readers. This competition is designed to gain global recognition as well as to have fun with the series and to enable him to interact with his readers.
The Arc of the Universe is a science fiction series focussing on Quinn, the sole survivor of a colony ship that is ripped apart by an unknown explosion. On regaining consciousness, Quinn begins to mourn for his dead son while unbeknown to him; he is a pawn in a deadly alien game. As with all Whiteway's books, there are so many imaginative twists and turns.
"I enjoy creating complex storylines and alien beings that expand the elements of fantasy and science fiction while keeping one foot grounded in reality," says Whiteway. "With Quinn, his reality is splintered when his son reappears before him, but nothing is as it seems."
Full details of the online competition and prize giveaway can be found at: http://markwhiteway.weebly.com/january-2015-giveaway.html
Whiteway lives in West Sussex, close to the former home of H.G. Wells and is currently working hard on new episodes of Arc of the Universe – available on any Amazon Book Store in Kindle format.