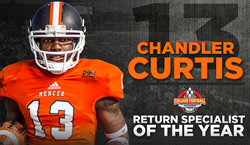 Charleston, SC (PRWEB) December 29, 2014
College Football Performance Awards (CFPA) recently announced three honors for the 2014 season. Mercer return specialist Chandler Curtis, Northern Iowa all-purpose performer David Johnson, and Southern Illinois tight end MyCole Pruitt have earned 2014 CFPA FCS Awards.
Curtis earned the 2014 CFPA FCS National Return Specialist of the Year Award, finishing the season with four total return touchdowns. He returned 11 punts for 271 yards and three touchdowns, and he returned 17 kickoffs for 506 yards and one touchdown. Last season, CFPA honored NCCU's Adrian Wilkins and the NCCU Special Teams unit for their nation-best return performances.
"To win a national award at a university where we've only been playing football now for two years, after bringing football back since 1941, gives us tremendous credibility moving forward in the FCS landscape," said Mercer Head Coach Bobby Lamb. "We're trying to build this thing brick by brick, and it takes time. Our guys are doing a good job at that."
Johnson earned the 2014 CFPA FCS All-Purpose Performer of the Year Award. Johnson is the fifth UNI player to earn CFPA honors following L.J. Fort (CFPA Linebacker Award), Ben Boothby (CFPA Defensive Tackle Award), Sawyer Kollmorgen (CFPA Freshman Performer of the Year), and Tyler Sievertsen (CFPA Elite Placekicker Award).
Pruitt earned the 2014 CFPA FCS Tight End Award. He is the third FCS player to earn CFPA honors in multiple seasons, joining previous two time winners Terrance West (Towson) and Patrick Murray (Fordham). West is currently a running back with the Cleveland Browns, while Murray is currently a placekicker with the Tampa Bay Buccaneers.
The full list of 2014 CFPA honors will be announced January 14, 2015.
About College Football Performance Awards:
The goal of College Football Performance Awards is to provide the most scientifically rigorous conferments in college football. Recipients are selected exclusively based upon objective scientific rankings of the extent to which individual players increase the overall effectiveness of their teams.
As prominent scholars from a wide variety of disciplines note, CFPA eliminates the politics and biases that vitiate balloting-based awards. Furthermore, CFPA has received praise from both Republican and Democratic White House officials for promoting objectivity and fairness in college football.
CFPA is now in its seventh season of player and team performance recognition. Twenty-eight CFPA winners have been first-round NFL Draft selections.