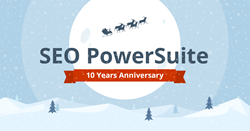 With this timeline, we wanted to remind our users know how Link-Assistant.Com began, how it has changed over time, and where it is headed at the moment.
(PRWEB) December 23, 2014
Link-Assistant.Com, a marketing software development company, began as a small friends-and-family enterprise in fall 2004. Back then, the only SEO tool provided was LinkAssistant (a software piece designed to facilitate link building), and it gave name to the entire company.
Over the years, Link-Assistant.Com grew into a software powerhouse, currently providing a four-app kit of SEO PowerSuite tools (sold separately or as a package), as well as a social marketing app by the name of BuzzBundle.
*How Link-Assistant.Com grew from 2004 to 2014*
The main milestones in the development of Link-Assistant.Com's arsenal of SEO tools have been:

In 2004, the company started building LinkAssistant, its first-ever SEO tool, that was meant to help new websites connect with "like-minded" sites in a niche.
In 2005, the developer launched Rank Tracker, the rank tracking app. Over the years, Rank Tracker acquired a ton of other characteristics and is now equipped with 17 keyword suggestion tools, integrates with Google Analytics and Google AdWords, has a Keyword Difficulty and a (Not provided) tool, and more.
In 2006, SEO SpyGlass, the developer's backlink analysis tool, came out. As the name suggests, it was meant for "spying" on competitor's backlinks. Nowadays, SEO SpyGlass also includes a Link Penalty Detection capability, a Profile Comparison tool, and many other features.
In 2008, Link-Assistant.Com released WebSite Auditor - a content analysis app. These days the SEO tool also diagnoses structural site issues, provides an SEO overview or a domain, allows one to create site audit reports, and more.
In 2009, the four SEO tools were incorporated into one pack – SEO PowerSuite.
In 2012, the company announced its first-ever social media software, BuzzBundle, which is a dashboard one can use to manage their company's social accounts, track and reply to message, schedule posts, and do other social media activities all in one place.
The full timeline of the company's major events and releases that occurred between 2004 and 2014 is available at http://www.link-assistant.com/news/10-years.html
"Not that many people are aware we've been on the market this long. We realized this after our 10 year's anniversary was covered on Search Engine Journal", comments Erin Madison, User Experience manager at Link-Assistant.Com. "And, with this timeline, we wanted to remind our users how the company began, how it has changed over time, and where it is headed at the moment. And, of course, we'd like to thank our users for bearing with us this far and to wish everyone wonderful holidays!"
*About the SEO software developer*
Link-Assistant.Com is a software developer and the company behind SEO PowerSuite, an all-embracing SEO pack that covers a complete range of SEO tasks: keyword research, rank tracking, site audit, content optimization, backlink analysis, link outreach and SEO reporting. SEO PowerSuite is used by over 500,000 website optimizers worldwide and has won industry awards for being top-used and best-selling SEO software.