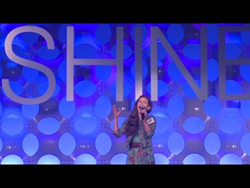 Professional, organized, family oriented, and first class all the way!
Atlanta, GA (PRWEB) December 24, 2014
Over 60 agents, managers, casting directors and record label producers from around the U.S. and Canada are scheduled to take part in AMTC's 64th biannual SHINE Conference, Dec. 30 - Jan. 4 at the Gaylord Palms Resort. Both Christian and mainstream media professionals will attend SHINE to teach VIP seminars and make one-on-one connections with performers.
Music producer, recording artist and songwriter Nate Butler will be scouting SHINE as a representative for "America's Got Talent." Nate has contributed to the production of 45 million records sold worldwide and has worked with many multi-platinum artists such as Victoria Beckham, Houston, Christina Milan, JoJo and Aaron Carter. Other music scouts include Blaine Barcus (Provident Label Group, Nashville) and John Thompson (Capitol CMG, Nashville).
Joy Pervis (Osbrink Agency), Alpha Tyler (BET Casting) and Angela Bowers (VH1) are just a few of the acting VIPs who will attend the conference. Joy Pervis, discoverer of Dakota Fanning and Lucas Till, speaks about her experiences with the conference. "AMTC [SHINE] is the crème de la crème…" "Professional, organized, family oriented, and first class all the way! I am honored to have been affiliated with your organization for over 15 years."
Ford, Wilhelmina and Trump are three of the many top-international modeling agencies attending SHINE Winter 2015.
This year SHINE will welcome, for the first time, 10 West Studios. 10 West Studios is an award-winning independent motion picture production company. Founded by Harold Cronk and Matthew Tailford, the company has produced many feature films such as "God's Not Dead."
AMTC is a fellowship of faith, teaching talented performers what they need to know about the entertainment industry and connecting them to each other and to professionals who can create larger opportunities. SHINE is a unique way for performers to showcase their gifts and perform for Christ.
To learn more about the international SHINE conference and Winter SHINE VIP list, visit http://www.amtcworld.org.