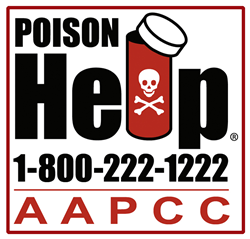 This report shows the vital role that poison centers play
Alexandria, VA (PRWEB) December 29, 2014
In 2013, America's poison centers managed 3.1 million calls, almost 8,400 per day on average, according to the recently published 31st Annual Report of the American Association of Poison Control Centers' National Poison Data System.
The American Association of Poison Control Centers (AAPCC) maintains the National Poison Data System (NPDS), a database containing information on more than 60 million poison exposures managed over the telephone by U.S. poison centers since 1983. NPDS is the only comprehensive, near real-time, poisoning surveillance database in the United States.
In 2013, poison professionals at the nation's 55 poison centers managed about 2.2 million human poison exposures, with children younger than 6 accounting for about half of all poison exposure cases, and over 800,000 information calls.
Eighty percent of poisonings were unintentional. Sixteen percent were intentional, with suicidal intent suspected in 11 percent of all cases. Deaths from drug overdose are now the leading cause of injury death in the U.S.
Of the 2,477 deaths (1,218 direct) attributed to poison in 2013, 99 were individuals younger than age 20, including 29 younger than 6 years-old. Sedatives/hypnotics/antipsychotics, cardiovascular drugs, opioids, miscellaneous stimulants/street drugs, and alcohols were most frequently associated with poison-related deaths.
Medication categories with the greatest rate of increase of more serious exposures this year were: 1. Sedative/hypnotics/antipsychotics; 2. Analgesics; 3. Antidepressants; and 4. Cardiovascular drugs.
With the first exposure to an electronic cigarette (e-cigarette) product noted in September 2010, 2013 saw a dramatic increase in the number of exposures to e-cigarettes and their liquid nicotine refills. E-cigarette exposure calls peaked in April 2014 and comprised 35 percent of all nicotine-related single exposure calls. In children, e-cigarettes now account for roughly 25 percent of nicotine exposures, while in other age groups, e-cigarettes exposures have surpassed other tobacco products and account for as many as 65 percent of exposures. A decline in exposures has been seen since April 2014, possibly reflecting increased state and local regulation.
Notably, there was a 9.3 percent decrease in total calls compared to 2012. A 26.8 percent reduction in medication identification requests accounted for a majority of the overall decrease. Possible contributors to the declining volume include a downward shift in U.S. birth rates and increased use of and reliance on Internet search engines and web resources. AAPCC is concerned with the potential for minor exposures to progress to more severe morbidity and mortality because of a shift away from direct contact with poison centers. Human exposures with more serious outcomes (moderate, major, or death) have increased by 4.7 percent per year since 2000.
"Focus group research suggests that people are more frequently turning to their smart phones and computers when searching for poison information," said AAPCC President Jay L. Schauben, PharmD, DABAT, FAACT. "It is feared that if people seek poison-related information from sources other than poison control experts, they may not receive the correct information, especially when time is of the essence. For example, if someone out hiking is bitten by a venomous snake, a few minutes can mean the difference between life and death. Why not call your local poison center to get the right answer right away?"
"While poison centers remain an unequivocal source for reliable and accurate poison exposure information, it is feared that people are turning to far too unreliable sources like the Internet, where misinformation can be posed as fact," said James Mowry, PharmD, DABAT, FAACT, lead author of the report. "When a poison exposure does occur or even for a basic question, it's a safer alternative to call a local poison center instead of turning to a computer."
Other findings in the report include:

About 72 percent of all cases reported to poison centers were calls from people's homes.
About 70 percent of the 2.2 million poison emergency cases reported to poison centers were treated at home, saving millions of dollars in medical expenses.
The top five substance categories most frequently involved in human poisonings were analgesics (12%), cosmetics/personal care products (8%), household cleaning substances (8%), sedatives/hypnotics/antipsychotics (6%) and antidepressants (4%).
"Poison centers have played critical roles in public health ranging from the outlawing of synthetic drugs to alerting the public about the dangers of single-dose laundry packets as well as e-cigarettes and their liquid nicotine counterparts," said AAPCC Executive Director Stephen T. Kaminski, J.D. "Additionally, for every dollar invested in the poison center system, an estimate of $13.39 is saved in medical costs totaling more than $1.8 billion in savings every year. This report shows the vital role that poison centers play in monitoring threats to the public's health and in treating people exposed to poisons."
The 31st annual report issued by the American Association of Poison Control Centers was published in the December issue of Clinical Toxicology and is available at http://www.aapcc.org. The report was authored by James B. Mowry, PharmD; Daniel A. Spyker, MD, PhD; Louis R. Cantilena Jr., MD, PhD; Naya McMillan, DrPH, MS and Marsha Ford, MD.
For more information, the media may contact Brett Schuster, AAPCC associate manager, Public Relations and Member Services, at 703.894.1865 or schuster(at)aapcc(dot)org.
AAPCC supports the nation's 55 poison center members in their efforts to treat and prevent drug, consumer product, animal, environmental and food poisoning. Members staff the Poison Help hotline at 1-800-222-1222 that provides free, confidential, expert medical advice 24 hours a day, seven days a week, 365 days a year from toxicology specialists, including nurses, pharmacists, physicians, and poison information providers. In addition, AAPCC maintains the only poison information and surveillance database in the United States, providing real-time monitoring of unusual poisoning patterns, chemical exposures and other emerging public health hazards. AAPCC partners with federal agencies such as EPA, HRSA and the CDC, as well as private industry.
To learn more, visit http://www.aapcc.org, like us on Facebook, follow us on Twitter (@AAPCC), or read our blog at aapcc.wordpress.com.