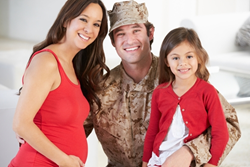 These people often have to leave behind higher paychecks to fulfill their military commitments, which can make it difficult for them to keep up with their mortgage payments
Chicago, IL (PRWEB) December 25, 2014
The Federal Savings Bank, a large veteran lending institution in the Midwest, is pleased to share news that both the U.S. House and Senate unanimously approved legislation that extends foreclosure protection for servicemembers, according to a statement from Sen. Sheldon Whitehouse, D-R.I..
The protections were originally set to end this year, but the extension of the Servicemembers Civil Relief Act of 2008 means they will continue through January 2016. The SCRA states a servicemember's home cannot be foreclosed upon for a full year following his or her return from active duty, as explained on December 17th by the Consumer Financial Protection Bureau Monitor. Under different legislation, it is already illegal for a financial institution to foreclose on a servicemember's home while he or she is on active duty.
This is not the first time Congress has continued the benefits under the act. The protection period for military personnel was extended from three to nine months in 2008, then to one year in 2012. Had the legislation not been passed, the protection period would have returned to three months.
The Federal Savings Bank finds this extended protection policy as particularly important to National Guard and Reserve members. These people often have had to leave behind higher paychecks to fulfill their military commitments, which can make it difficult for them to keep up with their mortgage payments! Due to the new changes, The Federal Savings Bank feels many of its prospective veteran clients will be confident and secure with a VA home loan.
"Servicemembers returning from active duty often need time to regain their financial footing, particularly those in the National Guard and Reserves who give up their full-time jobs to fight for our freedom," said Whitehouse. "We should ultimately pass legislation to make this protection permanent, but I'm glad we were able to secure peace of mind for our veterans for one more year."
Military personnel interested in refinancing should contact The Federal Savings Bank, a veteran owned bank, to learn more about low mortgage rates and refinancing options.