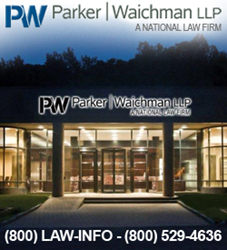 "We applaud the Southern District of New York's professional website, which is complete with all current information on this critical litigation,"
(PRWEB) December 24, 2014
Parker Waichman LLP, a national law firm dedicated to protecting the rights of victims injured by defective drugs and medical devices, is commenting that the United States District Court, Southern District of New York just launched a website devoted to litigation involving the Mirena intrauterine device (IUD). The website may be accessed at: http://www.nysd.uscourts.gov/mdl/13MD02434.
Upcoming Court proceedings are detailed and the website also contains important information on leadership parties; Case Management Orders, in both chronological and category order; as well as member cases, to name a few. A very broad and detailed array of information concerning this important litigation is now available, thanks to the United States District Court, Southern District of New York, indicated Parker Waichman LLP.
"We applaud the Southern District of New York's professional website, which is complete with all current information on this critical litigation," said Matthew J. McCauley, Senior Litigation Counsel at Parker Waichman LLP. The Court previously appointed Mr. McCauley to the position of Plaintiffs' Co-Lead Counsel in the Mirena IUD MDL.
The Mirena IUD multidistrict litigation is entitled In Re: Mirena IUD Products Liability Litigation, Case Number 7:13-md-02434-CS, U.S. District Court for the Southern District of New York. Plaintiffs in the litigation allege that the Mirena IUD contraceptive device has caused serious injuries, including uterine perforation; they are suing Bayer for allegedly failing to warn about the risks.
The attorneys at Parker Waichman LLP are also actively involved in other Mirena IUD litigations. For example, Partner Raymond C. Silverman, has been appointed Co-Lead Counsel in the Mirena IUD multicounty litigation centralized in Bergen County, New Jersey. That case is In Re: Mirena Litigation, Case Number 297 and involves more than 1,000 individual cases. Allegations include that, according to the U.S. Food and Drug Administration (FDA), the most serious side effects associated with the Mirena IUD are perforation of the uterine wall, embedment of the device in the uterine wall, intrauterine pregnancy, ectopic pregnancy, Group A streptococcal sepsis, pelvic inflammatory disease (PID), ovarian cysts, and breast cancer.
Parker Waichman LLP remains involved with numerous lawsuits brought against Bayer over alleged adverse reactions associated with its Mirena IUD system and remains available to assist those individuals who have suffered injuries allegedly associated with the Mirena, offering offer free lawsuit consultations to victims of Mirena IUD birth control. If you or a loved one experienced complications following the use of this device, please visit the firm's Mirena® IUD Side Effects page. Free case evaluations are also available by calling 1-800-LAW-INFO (1-800-529-4636).