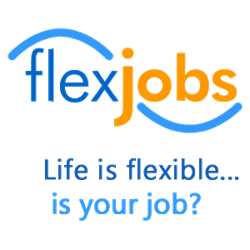 Boulder, CO (PRWEB) December 30, 2014
After reviewing tens of thousands of flexible jobs, the FlexJobs research team has compiled a list of the fifty most surprising work-from-home jobs from the past year. These professional-level positions are currently, or were previously, posted in FlexJobs' database in 2014 and allow employees to conduct their work at home either part of the time or full-time. Work-from-home positions are in high demand, with seventy-nine percent of workers wanting to work from home at least part of the time, according to an Inc. Magazine report.
"Many people underestimate the types of legitimate work-from-home jobs available in today's employment market, but the variety of opportunities represented in this list reveals how rapidly telecommuting jobs are growing and diversifying," shared Sara Sutton Fell, Founder and CEO of FlexJobs, the leading online service for professionals seeking telecommuting, flexible schedule, part-time, and freelance jobs. "Opportunities for interesting work-from-home jobs will continue to increase as more companies recognize and capitalize on the win-win benefits that telecommuting arrangements offer for both businesses and workers."
The Mayo Clinic, the American Heart Association and Xerox are among the companies that posted some of these surprising work-from-home jobs.
The 50 most surprising work-from-home jobs of 2014, categorized by industry, include:
Science and Pharma
Senior Pharmacovigilance Scientist
Speech Scientist
Genetic Counselor - Biochemical Genetics
Fish Biologist
Senior Epidemiology Informaticist
Environmental Engineer
Medical and Health
Psychologist
Medical Director - Endocrinology
Public Health Regional Dentist Supervisor
Kinyarwanda Medical Interpreter
Social Worker -SHP
Health Equity Director
Education
Physical Education/Health Teacher - High School
Teacher Success Coordinator
Senior Literacy Assessment Specialist
Sign Language Adjunct Teacher
Teacher - K5 Reading Coach
Law and Government
NATO Special Operations Force Subject Matter Expert/Course Developer
Historian
Litigation Attorney
Air Safety Investigator (Instructor)
Senior Staff Attorney
Regulatory Affairs Strategy Consultant
Business
Director of International Sales
Retail and Consumer Industry Leader - Food and Beverage
Senior Branding/Naming Expert
Trainer - (Corporate Practice Management)
Executive-Level
Chief Public Affairs Officer
Chief Operating Officer
Chief of Staff
Chief Executive Officer
Vice President Sales - Financial Services
Writing, Editing, Communication
Executive Editor - Magazine
Web Search Evaluator
Hyperbaric Technology Instructional Writer
Internet Search Administrator (Spanish Language)
High School Biology Author
Handwriting Associate
Nonprofit and Philanthropy
Regional Gift Advisor
Family Engagement Facilitator
Animal Relocation Manager
Food and Farm Events Coordinator
Grants Manager - Partnerships and Research
Sports and Leisure
Golf Area Manager - Middle East
Sports Analyst - Lacrosse
Ohio Valley Beer Ambassador
Baseball Systems Developer - Research and Development
Sports Analyst - Volleyball
Spa Specialist
Smokefree Bars Campaign Manager
According to a recent survey of people who want flexible jobs, many workers would be willing to sacrifice important benefits in order to work from home, such as a reduction in salary, health insurance and vacation time. And although telecommuting options are generally assumed to be driven by employee requests, employers also can capitalize on huge benefits by supporting work-from-home initiatives through utility and real estate cost savings, increased productivity and reduced turnover. Global Workplace Analytics projects a national savings of over $700 billion a year if those with compatible jobs and a desire to work from home did so just half the time. A typical business would save $11,000 per person per year and the telecommuter would save between $2,000 and $7,000 a year.
To learn more, visit: http://www.flexjobs.com/blog/post/50-most-surprising-work-from-home-jobs-2014
To request additional information, please contact Kathy Gardner at kgardner(at)flexjobs(dot)com.
Interested in flexible work? Join FlexJobs on January 15th for its next webinar: Your 2015 Job Search Plan: Finding Flexible and Virtual Jobs.
About FlexJobs
FlexJobs is the leading online service for professionals seeking telecommuting, flexible schedule, part-time, and freelance jobs. With flexible job listings in over 100 career categories, and opportunities ranging from entry-level to executive, freelance to full-time, FlexJobs offers job-seekers a safe, easy, and efficient way to find professional and legitimate flexible job listings. Having helped over one million people in their job searches, FlexJobs has has appeared on CNN, Good Morning America, Marketplace Money, and many other trusted media outlets. FlexJobs is also a proud partner in the 1 Million for Work Flexibility initiative, which seeks to unite people advocating for work flexibility.