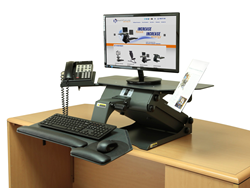 Our clients include individuals looking to enhance their comfort at home or the office, small businesses that need practical solutions for workstation ergonomics, and Fortune 500 companies focused on increasing employee safety and productivity
Burnsville MN (PRWEB) December 28, 2014
HealthPostures, a leading national designer and manufacturer of office ergonomics equipment, has announced that it has entered into a new dealer partnership with Ergo Experts. The partnership will put HealthPostures' products into the Ergo Expert sales and distribution network that provides quality ergonomic products across the United States.
In addition to having its products sold through Ergo Experts national distribution, the new dealer partnership puts HealthPostures' products in Ergo Experts local New York City market as well. Ergonomics products included in the partnership are the 6100 TaskMate Executive, the 6400 TaskMate EZ and the 6300 TaskMate Go. Designed with adjustable monitor and keyboard stands, the three ergonomics products encourage movement and an energetic work environment.
The aim to reduce workplace injuries such as carpel tunnel syndrome and back and neck misalignment is primary drivers behind HealthPostures' innovation. Specifically, the company's executives share that, "HealthPostures' sit to stand ergonomic products encourage an energetic work environment and will provide a sit to stand ergonomic solution that will help prevent and alleviate pain associated with sitting at work."
Ergo Experts web site states that their company is a leading distributor of ergonomic computer furniture and accessories. "We offer only well-known, tested products manufactured by the best names in the ergonomics industry." Ergo Experts has the ideal clientele for HealthPostures products. "Our clients include individuals looking to enhance their comfort at home or the office, small businesses that need practical solutions for workstation ergonomics, and Fortune 500 companies focused on increasing employee safety and productivity."
About HealthPostures
HealthPostures LLC (https://healthpostures.com) builds rehabilitative and ergonomic equipment that helps people to stay healthy while they work. The firm has been designing and manufacturing ergonomic sit stand solutions since 1996. Part of the company's mission is to "strive to provide quality products that will help transform your sedentary life so you have a healthy way to work." Office solutions sit stand products Health Postures designs and manufactures include dual monitor sit stand work stations, adjustable mouse stands, dual monitor arm accessories, Stance move seat extensions, industrial surface Taskmates and Stance Move chairs.
Contact:
HealthPostures LLC
14310 Ewing Avenue South, Suite 100
Burnsville, MN 55306
800-277-1841
https://healthpostures.com
Contact:
Ergo Expert
236 Kettles Lane
Medford, NY 11763
877-374-6872
support(at)ergoexperts(dot)com
http://www.ergoexperts.com/
Sources:
http://www.ergoexperts.com/aboutus.asp
http://www.ergoexperts.com/Contact-Us-s/13.htm