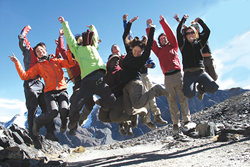 (PRWEB) December 26, 2014
To mark its 100th anniversary in 2014, Carnegie Council for Ethics in International Affairs has launched a series of projects aimed at connecting students and educators around the world in a dialogue on global ethics.
INTERNATIONAL STUDENT/TEACHER ESSAY CONTEST
ESSAY TOPIC: What would you like to see happen during this century to make the world a better place? Open to teachers at all levels and students at the high school, undergraduate, or graduate level.
DEADLINE: January 5, 2015.
TRANS-PACIFIC CONTEST, 2015
ESSAY OR VIDEO TOPIC: What is the future of U.S.-Asia relations or of the United States and one of the listed Asian countries? Each entry must be a collaboration between a student who is a citizen of the United States and a student from one of the listed East Asian countries.
DEADLINE: April 30, 2015.
JOIN THE GLOBAL ETHICS NETWORK
Connect with students, scholars, and professionals on Carnegie Council's Global Ethics Network, a free social network for people interested in international affairs. Post an essay, read and comment on global projects, and make new contacts around the world.
Founded by Andrew Carnegie in 1914, Carnegie Council for Ethics in International Affairs is an educational, nonprofit, nonpartisan organization that produces lectures, publications, and multimedia materials on the ethical challenges of living in a globalized world.