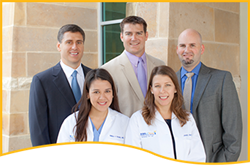 "Our goal is to help our patients lead healthier lives and we can help them accomplish this in a variety of ways, whether it's bariatric surgery or via our medical weight loss program," said Dr. Duperier
San Antonio, TX (PRWEB) December 29, 2014
The Bariatric Medical Institute of Texas (BMI of Texas) today announced that San Antonio weight loss surgeons Terive Duperier, MD, FACS, Richard Englehardt, MD, and Michael Seger, MD, FACS, were recognized by San Antonio Scene in the magazine's annual listing of the city's top physicians. Dr. Duperier, Dr. Englehardt and Dr. Seger were recognized in both the Bariatric Surgery and General Surgery categories. Dr. Jenny Seger, who heads up the practice's medical weight loss program, was recognized as a "Best of 2015" doctor in the Bariatric Medicine category. The BMI of Texas doctors have repeatedly been recognized by their peers dating back the awards' inception in 2005.
Selected to the list based on recommendations from their peers, "S.A. Doctors & Dentists: Best of 2015" appears in the December 2014 issue of an San Antonio Scene. San Antonio Scene magazine staff sent surveys to thousands of physicians and hundreds of dentists in Bexar County, asking them to recommend peers for inclusion. From the responses received, the magazine developed the list.
"Our goal is to help our patients lead healthier lives and we can help them accomplish this in a variety of ways, whether it's bariatric surgery or via our medical weight loss program," said Dr. Terive Duperier. "Everyone at BMI of Texas is focused on helping our patients lose weight and keep it off, leading to a much healthier lifestyle."
The BMI of Texas physicians and staff are dedicated to creating an enduring partnership with patients in order to ensure their long-term success and committed to providing care in a supportive, compassionate, and guilt-free environment. In addition to its medical weight loss program, BMI of Texas helps patients achieve their weight loss goals and improved health through various weight loss surgery procedures including gastric bypass, lap band and gastric sleeve.
Dr. Jennifer Seger heads up BMI of Texas's medical weight loss program, where she assists patients who want to lose weight and improve their overall health. She was recognized as "Bariatrician of the Year" in recognition of her outstanding work and tireless efforts by the American Society of Bariatric Physicians (ASBP®) in September 2014.
At BMI of Texas, patients interested in weight loss surgery attend a free, educational seminar to learn about the various types of weight loss surgery procedures, and then are assigned a patient advocate to help coordinate the paperwork and insurance stipulations necessary for surgical intervention. Post-operatively, the doctors continue to follow their patients to ensure long-term weight loss success. Additionally, the surgeons perform a full spectrum of advanced laparoscopic procedures, including parathyroid surgery, laparoscopic Nissen Fundoplication (anti-reflux surgery), laparoscopic colon surgery, laparoscopic pancreatic surgery, and laparoscopic hernia surgeries.
About BMI of Texas
Founded in 2008, BMI of Texas is focused on helping patients achieve their long-term weight loss goals. More information on the practice can be found at bmioftexas.com.
###