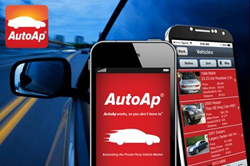 "We're excited to have AutoAp as one of our offerings," said FlashFunders Co-founder Brian Park. "AutoAp is a more mature 'start-up', having successfully closed their seed round, built a team and launched a product with excellent reviews."
Portland, Oregon (PRWEB) December 26, 2014
AutoAp, Inc. launches their second round of funding on flashfunders.com, with $185,000 of their $1,000,000 cap in secured funds to date.
"We're excited to have AutoAp as one of our offerings," said FlashFunders Co-founder Brian Park. "AutoAp is a more mature 'start-up', having successfully closed their seed round, built a team, launched a product with excellent reviews, and signed dealer and lender partners."
FlashFunders is a no-fee online funding platform, providing accredited investors with access to innovative startups. In their first three months they have funded three startups.
AutoAp significantly reduces the time, effort and costs associated with buying and selling used vehicles, and offers a unique environment for consumers, lenders, dealers and others in the automotive industry to 'play nicely' together.
For consumers, this means no ads or calls from dealers. For lenders, it means better matching for 'best-fit' borrowers. And for dealers, it means in-bound consumers are calling or emailing them because they've decided to make appointments for sales, service or vehicle acquisition. Consumers are in control of interactions initiated through the app in a more user-friendly way that also benefits lenders and dealers.
"It's about time someone created a way to buy and sell used vehicles easier than using currently available auto listing companies," said John Boone, an AutoAp customer.
The Company's long-term vision is to provide a robust vehicle-ownership app, and although they can't talk about the specifics of the company's future plans, the first released feature of the long-term strategy is enabling people to check their cars and trucks for vehicle safety recalls and receive alerts when new recalls are announced that affect their vehicles.
"We're excited to be part of the FlashFunders' elite group of start-ups. Moving the fundraising process online was clearly the next step in the evolution of capital formation, but it is not an easy task to do correctly. FlashFunders online platform makes the funding process efficient." said Mark Paul, CEO of AutoAp.
Reaching the maximum $1,000,000 Round 2 fundraising amount will enable AutoAp to scale; develop and integrate planned new app features and launch a newly developed and closely-related auto dealer solution to address their fundamental issues with vehicle safety recall management.
"Online equity funding is in its infancy and seeing tremendous growth. We're moving the fundraising process online — creating efficiencies and breaking down the walls of Silicon Valley.", said Vincent Bradley, Co-founder of FlashFunders.
AutoAp and FlashFunders are both disruptive business models in their respective industries, and even though AutoAp's initial launch is currently limited to the Pacific Northwest and FlashFunders has a national presence reaching thousands of accredited investors, both companies believe that the partnership will allow AutoAp to quickly reach their funding goals. For their part, FlashFunders receives an opportunity for equity participation.
AutoAp, Inc. is a mobile-focused automotive software development company created by veteran automotive executives – with the vision to save people time and money. Their patents-pending mobile device application automates the car purchase, selling and safety experience. The app is available through AutoAp's website , on Apple's iTunes store and Google Play store.
FlashFunders is a registered broker-dealer, member of FINRA/SIPC. FlashFunders provides a no-fee online equity funding platform for entrepreneurs to publicly market their offerings, collect funding from accredited investors and gain access to SEC-compliant legal documents and escrow accounts to create their offerings. For more information, visit: http://www.flashfunders.com
©2014, AutoAp, Inc. All rights reserved