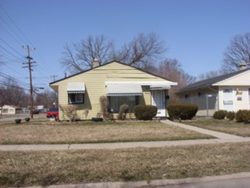 Chicago, IL (PRWEB) December 24, 2014
Three years ago, Gwen Ward's husband was diagnosed with two forms of cancer and could no longer work his job at a tomato factory. The couple's mortgage payments then became unaffordable and they could not continue to pay. Ward is a veteran who no longer works due to an injury suffered while serving in the Gulf War and relies on disability for income. After falling behind on payments, the Wards' mortgage was eventually purchased by American Homeowner Preservation ("AHP"). Yet due to the family's inability to catch up on delinquent payments, AHP foreclosed on the Michigan property. However, AHP then provided a lease option agreement that could eventually help this couple regain ownership of the property that has been in their family since 1967.
Ward and her husband live in Inkster, MI where almost 18 percent of the homes are vacant, five percent higher than the national average, according to Realtytrac.com. Ward has seen the devastation caused by the foreclosure crisis in her own community and feared their home, which has been in her family for 47 years, might become another casualty.
"There are so many homes in this neighborhood that are empty and there are people stealing the plumbing, the furnace, the water heater," Ward said. "When you buy a house here, it's just like a shell. You don't have anything, cabinets or nothing."
In 1976, Ward joined the military and her mother took over her property but, in 2002, Gwen's mother passed away. After living all over the US and in Germany for five years, Ward moved back into the home with her husband and they took a loan out on the property. "I would not recommend that lender to anybody because they were fine-printing stuff," said Ward. "They lie. You have to have a magnifying glass with them."
As a part of their lease and option agreement with AHP, Ward and her husband will now make monthly payments of $248. If they can manage these payments in addition to catching up on delinquent taxes and insurance payments, the couple will once again own this long-time family property.
Ward was very thankful that AHP was able to help them keep their home and spoke highly of her experience working with Senior Asset Manager Jake Laffey. "With your help, we are still in this home, and I thank you and appreciate it," Ward said. "You all have been so profoundly professional, especially Mr. Laffey."
American Homeowner Preservation is a socially responsible investment fund manager which empowers accredited investors to purchase equity in pools of distressed mortgages and earn returns of 9-12%. For further information or inquiries please visit https://ahpinvest.com or call 800-555-1055.