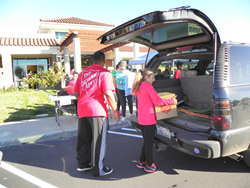 Moreno Valley, CA (PRWEB) December 24, 2014
The Moreno Valley Salvation Army Annual Angel Tree program is always an amazing experience. Visterra Credit Union has put in many hours to ensure that the families we are helping will have a Merry Christmas. Visterra CU has put together Holiday packages for over 400 local families. Tuesday, December 23 will be the day the families come to Visterra's Main branch in Moreno Valley to pick up their Holiday packages. The joy on the children's faces is worth the hard work and dedication to both Visterra CU employees and the Salvation Army staff. Helping out the community is very important to Visterra CU and is one of the most joyous experiences you can feel during the Holiday Season.
Visterra Credit Union, 23520 Cactus Avenue, Moreno Valley, CA. Visterra Credit Union, a locally headquartered, full-service financial institution has been named the 2014 Community Partner of the Year by the Moreno Valley Salvation Army.
Visterra CU is a full-service, not-for-profit-cooperative financial institution headquartered in Moreno Valley. With assets of about $335,000,000 and over 34,000 members, Visterra CU has over 60 years of sustained growth and success. Members enjoy surcharge free access to over 33,000 ATMs across the country as well as a complement of products and services expected of a major financial institution.
Information regarding Visterra Credit Union's accounts and services can be obtained by accessing their website at http://www.visterracu.org.