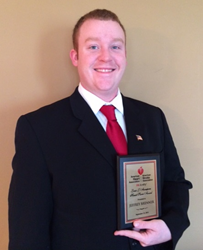 "I hope that I have made a real difference in my town and in the world around me to help prevent death and improve the quality of people's lives." - Jeffrey Brenner, EMT
Tarrytown, NY (PRWEB) December 27, 2014
Jeffrey Brenner, EMT, an employee with the Life Support Technologies Group (LST, Tarrytown, NY) who works as a hyperbaric medical technician at Winthrop University Hospital (Mineola, NY) has been recognized for saving the life of a theater-goer who suffered a heart attack. Brenner received the American Heart Association's "Louis J. Acampora Heart Saver Award" on September 23, 2014, and the Suffolk County, NY REMSCO "BLS Life Saver of the Year Award" on November 6, 2014 for his quick and effective lifesaving actions; he was recognized on November 24, 2014 by Winthrop University Hospital and the Garden City Hotel (Garden City, NY) during a Feast for Heroes.
During a December 2013 presentation of "White Christmas" at the Engeman Theater at Northport, NY, a theater-goer went into cardiac arrest. Brenner, who was also in attendance, jumped into action and used the skills he had honed from childhood to save the victim's life.
Jeffrey Brenner comes from a long line of fire rescue and medical volunteers in the Long Island, NY Emergency Medical Services (EMS) community. He and his family members combined have contributed approximately 150 years of EMS service. Brenner is a volunteer with the Huntington (NY) Community First Aid Squad (HCFAS), an organization with which he has been affiliated since the age of 14 as a member of Explorers Post 215. HCFAS is part of the Suffolk County, NY Regional Emergency Medical Services Council (REMSCO). He has also worked for the Huntington YMCA Summer Camp in the First Aid office, and as an EMT with the New York State Parks Department.
Jeffrey remarked, "I hope that I have made a real difference in my town in the world around me to help prevent death and improve the quality of people's lives."
Glenn Butler, LST's founder and CEO, said, "Jeffrey's quick response to a medical emergency while he was enjoying a theater show saved someone's life. We're honored to have Jeffrey Brenner, and many other dedicated EMS volunteers, working with us in our hyperbaric medical units."
Hyperbaric Medical treatment involves putting a patient in a specially designed vessel known as a hyperbaric chamber that is pressurized greater than atmospheric pressure. The patient breathes 100% oxygen while under increased pressure. Monoplace hyperbaric chambers are the most common and are designed to treat one patient at a time. Multiplace chambers are purpose-built and can accommodate as many patients as they are built for. Hyperbaric chamber construction standards are established and published by the American Society of Mechanical Engineers (ASME) Pressure Vessel for Human Occupancy (PVHO) Committee.
For more information see:
American Heart Association
http://www.heart.org
Suffolk County, NY Regional Emergency Medical Services Council (REMSCO)
http://www.suffolkremsco.com
Winthrop University Hospital
http://www.winthrop.org
Undersea & Hyperbaric Medical Society (UHMS)
Life Support Technologies Group (LST)
http://www.lifesupport-USA.com
About the Life Support Technologies Group (LST)
The Life Support Technologies Group (LST) is a Tarrytown, NY-based medical and life-support engineering company specializing in Advanced Wound Care and Hyperbaric Medicine Services to hospitals in the NY, NJ, CT region. LST has been in business for 20 years and currently provides services to 9 hospitals.
Glenn Butler, CEO
Life Support Technologies Group
(914) 333-8412
http://www.lifesupport-USA.com