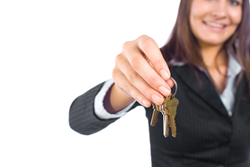 One of the reasons more first-time purchasers are buying homes is Fannie Mae and Freddie Mac's low-down-payment option.
Chicago, IL (PRWEB) December 23, 2014
The Federal Savings Bank was pleased to see that existing-home sales in November remained above year-over-year levels and saw an increase in first-time homebuyer participation.
The number of existing single-family homes, townhouses, condos and co-ops sold between October and November fell a seasonally adjusted rate of 6.1 percent to hit 4.93 million, according to the National Association of Realtors on December 22nd. This is the lowest monthly sales rate since May.
However, The Federal Savings Bank thinks consumers who are worried about the housing market shouldn't despair just yet. November's existing-home sales remained above where they were last November by 2.1 percent. October's existing-home sales rate was above last year's levels as well, indicating the housing market has greatly improved from a year ago and remains on its upward trend.
Decline unlikely to continue
MarketWatch analysts were surprised by November's low sales numbers, saying a poll of economists uncovered they expected the month's existing-home sales rate to be 5.18 million.
NAR Chief Economist Lawrence Yun believes the unsteady stock market may be partly to blame for November's poor numbers. It's not surprising stock market fluctuations made consumers and investors nervous. Additionally, and on a more optimistic note, Yun believes the drop seen in November probably won't occur in December, MarketWatch reported.
Fed Chair Janet Yellen indicated tight lending standards may have lent a hand in decreasing the speed at which the housing market recovers, according to a Business Insider release on December 17th titled "Janet Yellen Expects Inflation Impacts From Crashing Oil Prices To Be 'Transitory'" However, she too expressed her optimism for the market, stating the progress in the labor market will continue to help improve home sales.
First-time home buyers get in on the action
Consumers should not concentrate on November's existing-home sales and instead focus on the good news: First-time buyers are returning to the market.
The percentage of first-time buyers participating in the housing market rose to 31 percent in November from 29 percent in October. This is the largest share of first-time buyers since October 2012 when they took up 31 percent of the market.
In the months prior to November, new buyers represented about 29 percent of the market, which is historically low. The NAR noted since 1981, that about 4 in 10 purchasers were first-timers. In 2014, the average fell to 33 percent - the lowest it had been since 1987.
The fact that first-time purchasers are getting involved in the housing market is a good sign for 2015. The Federal Savings Bank is predicting millennials, many of which are first-time buyers, will be flocking to the housing market next year.. The rise in first-time buyer involvement may be a sign this is starting.
Help for first-time buyers
One of the reasons more first-time purchasers are buying homes is Fannie Mae and Freddie Mac's low-down-payment option.
"The new program mitigates risk with strong underwriting and ensures that responsible buyers have access to safe and affordable mortgage credit," said NAR President Chris Polychron, in the press release.
While help for first-time buyers exists, the NAR testified before the U.S. Senate Banking Subcommittee on Housing on December 9th stating that more needs to be done. Tight credit, high lending fees and poor housing inventory are all creating a prohibitive environment for first-time buyers.
First-time home buyers interested in taking advantage of low mortgage rates should contact The Federal Savings Bank, a veteran owned bank.