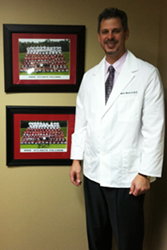 Johns Creek, GA (PRWEB) December 23, 2014
Dr. Randolph S. Moore invites new patients from Johns Creek, GA to experience dental implants with the help of 3D cone beam imaging. Dr. Moore is now accepting new patients from Johns Creek without a referral. The cone beam dental imaging system provides Dr. Moore with a more accurate facial x-ray, assisting in the placement of implants.
Cone beam technology is considered a safer and more comfortable option for patients, as it emits up to ten times less radiation than traditional x-rays. The system also produces 3D, high definition images in seconds, allowing Dr. Moore to see detailed images of each patients' individual oral anatomy.
Dr. Moore will determine the size and placement area of the implant based on the images, and will surgically place dental implants into the patients' jaw bone with titanium posts. Through a natural process called osseointegration, the implant post bonds with the jawbone to provide the stimulation the bone needs to stay healthy. After this is complete, a piece called an abutment is attached to the top of the implant, and a natural-looking crown is added.
Dental implants act and look like natural teeth and provide patients with a comfortable, healthy and attractive smile. With good oral hygiene and regular dental visits, the new teeth can last for a lifetime.
For patients in Johns Creek, GA looking to replace missing teeth with permanent dental implants, visit Dr. Moore's website at http://www.smilemooredentistry.com/ or call (770) 545-6141 to schedule an appointment.
About the Doctor
Dr. Randolph S. Moore is a general dentist offering personalized dental care for patients in the Buford, GA area for over 20 years. Dr. Moore received his degree from the University of Alabama in Birmingham, and completed his residency at the Veterans Hospital in Birmingham. Dr. Moore is active in the dentistry field and is a member of the Georgia Dental Association, the American Dental Association, American General Dentistry, American Academy of Cosmetic Dentistry and ICOI (International Congress of Oral Implantologists). To learn more about Dr. Moore and his dental services visit their website at http://www.smilemooredentistry.com, or call (770) 545-6141.