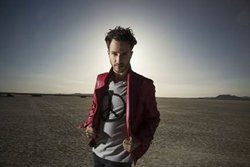 Los Angeles, CA (PRWEB) December 29, 2014
Up-and-coming singer-songwriter Ben Jaimen has announced that he will perform on stage at one of the world's biggest and most watched New Year's Eve concert events, Berlin's annual Brandenburg Gate New Year's Eve celebration. This year mark's Jaimen's third invitation to perform for the crowd of over a million revelers for the live, nationally and internationally broadcast event, which lines more than one mile in front of the German national landmark.
Ben Jaimen will perform music from his recently released debut EP Through The Universe as well as a brand new song, "7 Billion People." "7 Billion People" was inspired by Jaimen's work with the children's charity Spirituality For Kids. While working with SFK, Jaimen wrote the song for the children in the program, which promotes the ideals of unity, love and growth for kids around the world. The song then evolved into a larger statement and tribute to the goals of SFK to bring youth together.
"7 Billion People" will be performed live in a special collaboration with a pre-recorded children's choir, creating a "virtual chorus" comprised of children from across the globe. The interactive experience is being curated in collaboration with Playing For Change, a multimedia movement created to inspire, connect, and bring peace to the world through music. "7 Billion People" is available now for free download and suggested donation at children's charity Spirituality For Kids, at http://www.spiritualityforkids.com/7billionpeople. Online, at a special page designed for children to watch a video of the song, they are able to study both the lyrics and dance moves. The page includes instructions on how to record and submit their own performance of the song for inclusion in the New Year's Eve performance along with other children from around the world.
"7 Billion People" will be released for sale on December 31st at iTunes with a portion of all proceeds going to the charity. The song will be available via Ben Jaimen's iTunes page: https://itunes.apple.com/us/artist/ben-jaimen/id475657708
Jaimen's musical style blends catchy melodies and emotional lyrics to create a distinctive pop sound. Raised in Berlin, now living in L.A. by way of Bordeaux, Tel Aviv, London and Buenos Aires, the young artist's cultural identity and musical tastes were shaped by this relentless globe-hopping. Influenced by popular culture and musical royalty such as The Beatles, Michael Jackson, Prince, Elton John, Bob Dylan and Burt Bacharach, Jaimen's debut release Through The Universe sees the young artist establishing his vision of what pop means today. His passionate performance style has earned him praise as "a natural performer" and "electric on stage."
For more information on Ben Jaimen please visit: http://benjaimen.com/
Download "7 Billion People" Now At: http://www.spiritualityforkids.com/7billionpeople
Contact:
Scoop Marketing for Ben Jaimen:
Melissa Munafo / mmunafo(at)solters(dot)com / 818-761-6100
Brooke Paller / bpaller(at)solters(dot)com / 818-761-6100
Erik Stein / estein(at)solters(dot)com / 818-761-4645