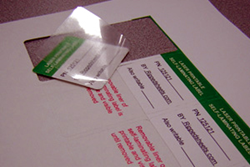 Benton City, WA (PRWEB) December 24, 2014
Rippedsheets.com now introduces a self-laminating label that allows hand-written entries to be protected. These are useful for inspection labels, maintenance labels, calibration labels, warranty labels, and more. Each self-laminating label has a pre-attached laminate, so there is no need for a special laminator. They are easy to use, have the durability of protected graphics, and the convenience of handwritten entries.
SELF-LAMINATING LABELS
Rippedsheets.com offers over 550 different materials, and a number of these can be used for the base material. The label can be custom printed with graphics, logos, variable data, or QR codes. The user can write on the label and seal it with a protective laminate. The laminate is a glossy, clear polyester that can also be custom printed. It is scuff resistant for both indoor and outdoor applications.
SELF-LAMINATING TAGS
Also available are self-laminating tags, which can also be diecut into different shapes and sizes as well as custom printed. These durable tags can be waterproof or tear-resistant. Self-laminating badges can also be created.
Rippedsheets.com has been providing custom labels and tags since 1997. Dozens of custom materials have been developed that are not available elsewhere, and these self-laminating labels and tags are just one of the newest additions.
Contact the customer service specialists at 1-888-791-9590 for more information about self-laminating labels, or visit the website for free samples of this material or hundreds of other custom materials.