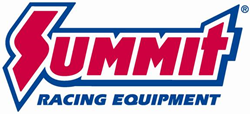 Tallmadge, OH (PRWEB) January 07, 2015
QA1's Quad Adjust Coil-Over Shocks provide fully independent control of rebound and compression at both low and high shock speeds. The QA1 Quad Adjust Coil-Over Shocks have spherical bearing mounts and are designed for use with 2.5 inch diameter coil springs.
Each setting is controlled by an adjustment knob, allowing racers to fine tune the suspension for low shock speed situations like corner entry and exit as well as high shock speed situations such as hitting bumps or curbs. No other coil-over shock gives that much control, so they are recommended for racers with a good handle on race car chassis tuning.
The Quad Adjust coil-overs have other race-ready features too. Both the shock and the gas reservoir are made from lightweight aluminum. They are connected with a PTFE lined braided steel hose that swivels in four directions on the shock body for flexible mounting. A Schrader valve on the reservoir allows for on-the-fly gas pressure adjustments.
SEE QA1'S QUAD ADJUST SHOCKS AT SUMMIT RACING
Summit Racing Equipment
http://www.SummitRacing.com
1-800-230-3030