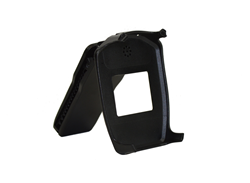 Byron Center, Michigan (PRWEB) December 24, 2014
PRO-VISION® has once again demonstrated their commitment to providing quality, affordable products for their customers. PRO-VISION® engineers have developed an all new shoulder clip designed to hold the BODYCAM® body-worn video camera steady while the operator is moving. Due to this increased control of the camera, the quality of video recorded is greatly improved.
"The new shoulder clip allows our customers to attach the BODYCAM® to their uniform's epaulet and maintain a steady angle as they go about their day," said Sam Lehnert, marketing manager for PRO-VISION®.
The shoulder clip will be included, along with the rotating garment clip, in every BC-100 Kit giving BODYCAM® users more standard options to secure the camera out in the field. The inclusion of the shoulder clip within the standard BC-100 Kit at no increased cost to the customer illustrates PRO-VISION's continued commitment to developing Reliable, Simple, Affordable™ solutions to meet customer needs.
About PRO-VISION – In 2003, PRO-VISION was incorporated and focused solely on back-up camera systems. 2005 marked their entry into the school bus market which helped their sales top 1 million dollars the following year. The company made their first international sale in 2007, and, by 2009, PRO-VISION expanded into commercial recording systems. During that time, they also released 4-camera school bus systems and made available live video viewing and video file transfer. In 2011, the company expanded into law enforcement recording systems and initiated its overseas sales program. 2013 brought on the company's10-year anniversary as well as the introduction of the BODYCAM® body-worn video system. 2014 has seen the launch of the first-ever 8 channel, 1080p High-Definition solid state DVR as well as expanded sales into over 30 countries around the globe including South Africa, Great Britain, Australia, Mexico, and Brazil.