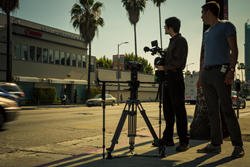 We were really pleased to be part of such a touching story
Chciago, IL. (PRWEB) December 29, 2014
Chicago video production company Absolute Vision Media Productions is proud to announce the Emmy nominations earned by several members of its media production team. Mark Smith, co-founder of Absolute Vision Media, and J Matthew Nix, project lead at Absolute Vision Media Productions, were jointly nominated in the category of Outstanding Crafts Achievement Off-Air: Photographer - Program (Non-News) for their work on the documentary feature Something of Love – A Tribute to Roger Amm.
The film, which premiered in May of 2013, looked at the career of music and choir teacher Roger Amm, who spent over thirty years teaching music in north-central Illinois. As the film illustrates, Amm found a particularly effective way of reaching the students in his classes, impacting lives in a positive way for decades to come. Several people in the film praise Amm and his efforts, and it's clear that Amm had a huge influence on the teaching culture at Ottawa High School. The film itself has also won accolades, screening at New York film festivals and at the Naper Independent Film Festival.
"We were really pleased to be part of such a touching story," said Mark Smith, co-founder of Absolute Vision Media Productions, and one of the crew members to have been nominated for the emmy. "And to be recognized for the role we played we played in what was really a team effort—well, I think it's a win for the team, really. A recognition of the way that everyone came together for a truly unique, inspiring story." Smith also mentioned that he considers the Emmy nominations as a kind of validation of the hard work continuously performed by his team.
Indeed, Smith's video production house, Absolute Vision Media Productions, regularly takes advantage of the video skills of the team to create stunning, high end video products. Absolute Vision Media Productions uses combines the latest innovations in technology with experience and know-how—two fundamental components of any successful shoot and any successful set. By offering pre-production, production, and post-production services, Absolute is able to bring clients a wide variety of video products, from complete commercials to motion graphics for the web.
In marketing circles, 2015 is widely expected to be "the year of the video." This means that Absolute Vision Media Productions is well positioned to help clients take full advantage of the video market by creating engaging, provocative video that stands out in a crowded market place. And, to be sure, the uses for video continue to proliferate. Clients have already commissioned training videos and educational videos, as well as videos for business presentation and corporate videos to showcase and illustrate mechanics such as revenue and profit year over year. This doesn't even include YouTube pre-roll videos or mobile videos. It's likely that, in the near future, almost all website will include video components, and video will play directly into search results. Absolute Vision Productions, now with a Emmy-recognized team, is in an excellent position to help clients leverage video assets into economic prosperity. For information on getting started, contact Absolute Vision Media Productions at info(at)AbsoluteVisionProductions(dot)com
About Absolute Vision Media: Absolute Vision Media Productions is a Chicago-based media and production company, and part of the Absolute Vision Media Inc. creative group. Whether for agency-style media, professional video production, local production crew, or general marketing and advertising, Absolute offers national-level experience with local connections and know-how for corporate, educational, commercial, and creative purposes. To learn more, visit http://www.AbsoluteVisionProductions.com.