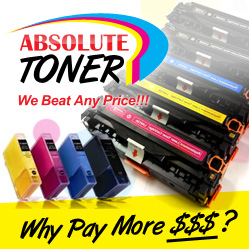 A discount of almost 90 percent off of the prices
Toronto, Ontario (PRWEB) December 26, 2014
Absolute Toner, a web based toner and cartridge store that operates out of Toronto, announced that a compatible toner cartridge for Brother TN630 will be available this month. This is a new product offering from Absolute Toner, adding to the already large volume of compatible toner and printer cartridges that the company carries. The compatible toner cartridge for Brother TN630 is perfect for use at home or in the office, replacing ink cartridges at a fraction of the price of the name brand product. The compatible for Brother TN630 is for use on the Brother DCP-L252ODW, DCP-L245ODW, HL-L2300D, HL-L2305W, HL-L2320D, HL-L2340DW, HL-L2360DW, HL-L2380DW, MFC-L2700DW, MFC-L2720DW and MFC-L2740DW. The product yields 1,200 pages, has a 2 year shelf life, fits the dedicated models that it is made for just like the name brand and does not cause any leaking or other quality issues with printing.
The compatible ink cartridges for the Brother DCP, HL and MFC series printers offers consumers a way to save money on ink cartridges that would normally be rather expensive to maintain. The prices that the compatible cartridges are offered at represent a discount of almost 90 percent off of the prices that other retailers charge for the name brand cartridges.
The ink cartridges supplied by Absolute Toner are sold under the company's strictest guidelines and come with a guarantee that the ink will be as highly effective as the name brand. This is accomplished by the staff at Absolute Toner testing each cartridge before it leaves the store to ensure the quality and effectiveness of each product. The compatible cartridges sold by Absolute Toner are dedicated products, which mean that each cartridge only works for one brand; it is not a universal product like those that are found at other stores as this compromises the quality of the product. This process enables Absolute Toner to stand by the dedication to quality products that are sold from the Toronto based store. The compatible for Brother TN630 comes with a 100 percent customer satisfaction guarantee and is typically shipped within one day of being ordered.
Any consumer that would like more information about the compatible Brother TN630 toner cartridge or any other cartridge sold by Absolute Toner can visit the website at http://www.absolutetoner.com/ or call 905-326-2790.
About Absolute Toner:
Absolute Toner operates out of Toronto, but offers shipping to a variety of places throughout Canada, enabling home users and businesses to take advantage of the benefits of compatible ink and toner cartridges. The company has a full dedication to customer satisfaction, offering a lifetime guarantee on every product that leaves the store. The staff takes pride in the products that are sold from the store, always ensuring top quality products at affordable prices. The customers of Absolute Toner range from casual users to businesses that require frequent and expanded printing that cannot sacrifice quality but need low prices.