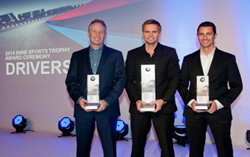 I certainly didn't expect a podium 3rd place finish and it's by far the highlight of my racing career.- Tom Capizzi
(PRWEB) December 24, 2014
BMW names AutoTechnic driver Thomas Capizzi, as one of the world's most successful privateer BMW race drivers of 2014, with a third place podium finish. This year's BMW Motorsports International competition included over 6,000 race results from 1,400 drivers in over 25 different countries; all were tracked by BMW with 283 participating drivers. The top 25 of the 283 participating drivers received invitations to this year's awards ceremony in Munich, Germany.
Besting more than 280 BMW racing drivers across the world, AutoTechnic driver Thomas Capizzi was awarded a third place 2014 BMW Sports Trophy. The Cape Cod business owner accepted a check in the amount of 21,500 euro ($27,000 U.S.) Friday from the BMW Motorsport Director Jens Marquardt at the annual award ceremony, held at the new BMW Driving Academy location in Maisach, Germany. Also this year, Capizzi won the SCCA NARRC North Atlantic Road Racing Championship.
"To a certain degree, the BMW Sports Trophy epitomizes the DNA of BMW in motorsport," said Jens Marquardt, BMW Motorsport Director. "For over 50 years these competitions have allowed us to acknowledge the most successful privateer teams and drivers, who enjoy success around the world with BMW racing cars, thus making them excellent ambassadors for our brand."
"I certainly didn't expect a podium 3rd place finish and it's by far the highlight of my racing career. I was thrilled to be on the podium with Turner Motorsports drivers Markus Palttala and
Dane Cameron who took the 1st and 2nd spots," commented Thomas Capizzi. "To top it off, my team, Auto Technic, made the top 10 team invitation list out of 58 teams competing. They earned it! They worked very hard in 2014 to keep me racing and with great results!"
In 21 total races during the 2014 season, Capizzi garnered 9 victories, four 2nd place finishes, six 3rd place finishes, one 4th place finish, and one 7th place finish. 90% of Capizzi's races in the 2014 season resulted in a podium finish. Capizzi also managed to qualify on the pole starting position for 8 of those races and set a new track record at Watkins Glen International.
For more information about the BMW Motorsports Awards visit:
http://www.bmw-motorsport.com/en/bmw-sports-trophy/2014-competition.html
Tom Capizzi, Jr. is the owner of Capizzi Home Improvement in Cotuit, MA.
For more information visit http://www.capizzihome.com/tomcapizziracing