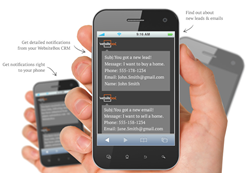 Mobile Notifications and QR Code apps for real estate agents from WebsiteBox
Toronto, Ont. (PRWEB) December 29, 2014
WebsiteBox, a technology company that provides real estate professionals with complete websites for a one-time $99 fee, today announced the availability of two new apps: an app that allows users to receive instant text-message alerts every time their website generates a new lead, and another app that allows users to create and track unlimited Quick Response (QR) codes.
The Mobile Notifications app instantly notifies WebsiteBox users by cellphone whenever their websites generate a new sales lead. The app works with all mobile carriers and devices.
"The Notifications app reach agents by cellphone wherever they happen to be, allowing them to respond to leads more quickly," said WebsiteBox CEO Peyman Aleagha. "We know that the faster an agent responds to a lead, the more likely a sale will result."
The QR Code app helps WebsiteBox users drive traffic to their websites and listings by generating QR codes for print-marketing pieces like business cards, flyers, post cards, lawn signs and letterhead.
"Real estate is one of the few industries benefitting from QR codes because interested buyers are motivated to scan them and find out about properties as quickly as they can," Aleagha said. "With this app, Realtors can create unique QR codes and track them to see where leads are coming from."
Automatically integrated with WebsiteBox websites, the Mobile Notification and QR Code apps can be purchased, for $99 each, from the WebsiteBox App Store: http://www.websitebox.com/realtors/apps-extras.php.
About WebsiteBox
WebsiteBox offers do-it-all real-estate websites for a one-time $99 fee – the lowest price in the market. More information is available at the WebsiteBox website, and by contacting Marketing Manager Chad Bhalla at chad(dot)bhalla(at)websitebox(dot)com, or (866) 857-1657 x1113.